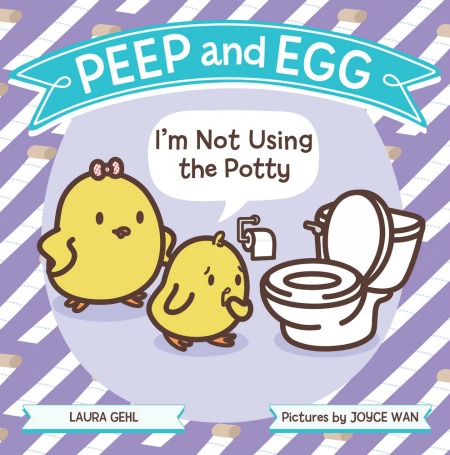 Big siblings can be helpful in modeling behaviors and skills for their younger sisters and brothers, and in the picture book world, this even applies to little chicks. In Peep and Egg: I'm Not Using the Potty written by Laura Gehl and illustrated by Joyce Wan, Peep works hard to get her little sibling Egg to give the potty a try.
Peep must be wise beyond her little chick years because she soon realizes that pushing Egg to get on the potty, flush the potty, or even just toss a piece of toilet paper in only makes Egg more resistant. With the familiar emphasis on the word NOT, Egg refuses again and again. But Peep is sly in other ways, and as she and Egg enjoy glasses of lemonade and water and do other water-based activities, she knows just how to get Egg where she wants him.
Wan's thick-lined illustrations are simple and perfect for toddlers and young preschoolers, and this theme, as well as Egg's particular declarations, will likely hit home for parents of young kids. In the end, Peep uses one last technique that readers of this site will surely appreciate, and Egg is successful in this important big step.
For more fun with these two cute chicks, be sure to find Gehl and Wan's other books in the series, I'm Not Hatching, I'm Not Trick-or-Treating, and I'm Not Taking a Bath.