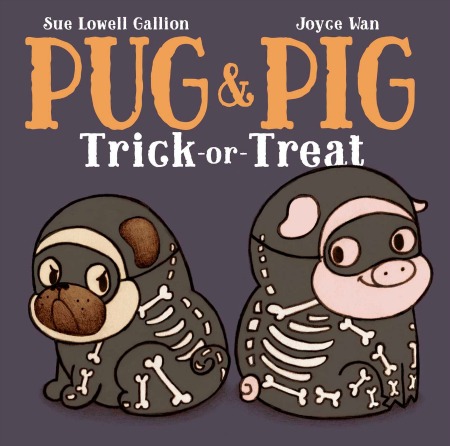 The adorable duo is back, just in time for Halloween. Sue Lowell Gallion's Pug & Pig Trick-or-Treat, illustrated by Joyce Wan, makes for an incredibly fun autumn read with young children who are getting excited to dress up for the holiday.
But, as you can see from the cover, not everyone is thrilled with the idea of wearing a costume. While Pig delights in wearing her skeleton costume because she feels cozy and loves pretending to be someone else, Pug doesn't quite share in her joy. He feels squished, and he's worried no one will recognize him. As they are surrounded by Halloween decorations on a dark night, Pug takes control of the situation and gets out of that costume by tearing it to bits!
But then poor Pig is sad, because who will take part in all the Halloween fun with her? She surely needs a buddy to trick-or-treat alongside.
I believe kids will laugh to see Pug's solution, one that makes both him and Pig happy and allows for some silly trick-or-treating with "costumes" that even go together.
If your little one was a fan of the first Pug Meets Pig (linked to my review from last year), this will be the perfect Halloween book to read together. Check out additional resources for Pug and Pig fun on Sue Gallion's site, too.