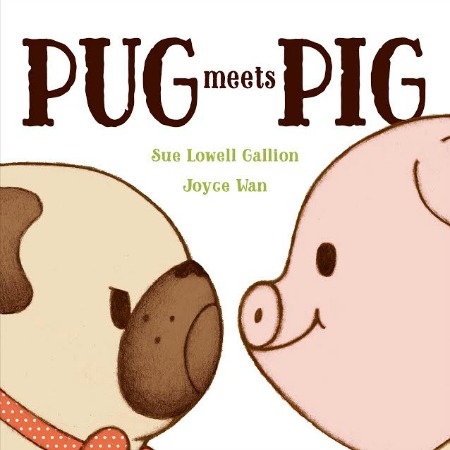 With big rounded faces, the two characters in Sue Lowell Gallion's new picture book Pug Meets Pig will surely make toddlers, preschoolers, and young elementary aged kids smile. Illustrator Joyce Wan's signature style of bold pencil line drawings fits perfectly with Gallion's simple storyline accessible to even the youngest of book lovers.
Pug is a happy little dog, content with the little world of his home and backyard. The end pages give a delightful preview of his active nature, showing criss-crossing lines all around the yard, from his dog house with a comfy bed to a flower bed perfect for digging, with stops to admire butterflies and chase squirrels in between. The story begins by showing Pug in his regular activities, with one or two sentences on each page. But things soon change when a little, pink pig wearing a ruffle-collared shirt saunters out the back door.
Pug is surprised and taken aback by the way Pig budges into his favorite everyday activities, and his little muzzle now sports a significant frown instead of his usual content expression. Pug makes a decision to pack his things and leave when he spies a new doggie door just his size on his house. What he sees as a wonderful escape at first quickly becomes trouble for Pig, who tries to use the door but gets stuck halfway through instead.
Pug has to make a decision, and it doesn't take him long to figure out how to be a good friend. As a result, Pug begins to see that the things he loves don't have to be solo activities.
Young children will be entertained by the story, and the inherent lesson can make for an age-appropriate conversation that can be applied to young children's lives. What better way to discuss sharing than with two adorable characters as perfect examples?
For teachers interested in using this picture book in the classroom, be sure to check out the activity kit, with Common Core-aligned guide.