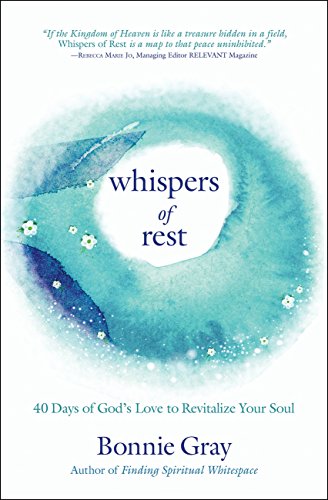 I am always involved in an organized Bible study during the school year, but when summer comes, I am left to my own devices, which means I have the freedom to explore something that interests me, either in a formal manner with a Bible study guide or just studying a book of the Bible on my own. I enjoy both, but the truth is, it's easier for me when I'm following a guide.
I am so excited about Bonnie Gray's Whispers of Rest. It's a unique format that digs deep and also teaches well.
The book has six parts:
Being the Beloved
Choosing as the Beloved
Dreaming as the Beloved
Healing as the Beloved
Daring as the Beloved
Shining as the Beloved
The sections each build upon one another, with the foundation of being the beloved focusing on coming to Jesus, letting Him love you, learning to talk to Him. If one is feeling a little spiritually dry when they open this devotional, it's hard to stay that way upon reading it. Each chapter/day begins with some quotes on the theme, then has a devotional shared from the author, God's story with an example from scripture which then usually challenges the reader to go deeper, God's whispers to you, a prayer, a specific challenge, a few questions which are great for guiding journaling, and further practice on prayer and meditation.
It's the section on prayer and meditation that I think is going to be most helpful to me. Even when I am in a good pattern of reading my Bible, even journaling, I often don't take the time to just reflect and absorb. These prompts are inviting and challenging, and I look forward to doing just that.
I've only completed part of the first section, but I've looked through to the other sections. I can't wait to get to the daring section, in which the reader is dared to make bold changes in self-talk, friendships and schedule.
I can't recommend this book enough.