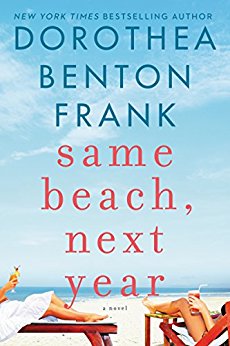 Dorthea Benton Frank writes about women of a certain age, telling entertaining and lightly emotional stories about them. They may be getting older, but they are never to be counted out. As a woman who is on the backside of 40, these women resonate with me.
Same Beach Next Year is about two couples who have shared a friendship for over 20 years. Eliza and Adam ran into Eve and Carl at a beach condo one summer. Adam and Eve were high school sweethearts, which makes Eliza feel a bit insecure and suspect of the whole situation. In spite of that, by week's end, the four were fast friends, and ended up vacationing together each year.
I loved this story of two marriages, two families of three generations each. It's a story about friendship and what family really is. There are times when the characters are faced with making decisions that might seem selfish or self-serving. It's not always clear what the "right" answer is.
As with all of Dot Frank's novels, the setting shines. In this case, Charleston took a bit of a back seat to Greece! A separate story line takes some of the characters to Corfu, Greece, and it just intensified my desire to visit that island. The food descriptions and imagery, whether it's from Eliza's own kitchen or a Greek cafe made my mouth water.