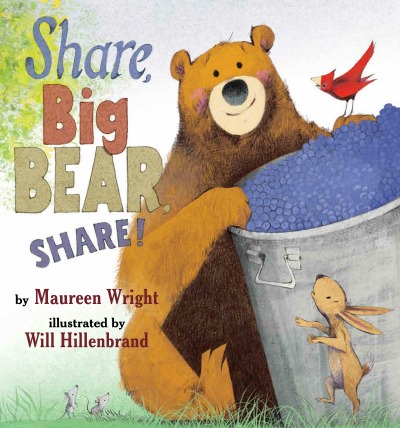 A brown bear with a gigantic tub of freshly picked berries… what could be better? Maureen Wright's character Big Bear returns in the new picture book Share, Big Bear, Share! for a funny case of misunderstanding.
It's not that Big Bear is averse to sharing, but at the beginning of the story, he just seems a bit oblivious to the other woodland creatures looking on with hunger as he gets nice and comfy for a sweet snack. The old oak tree watches on and realizes that he may need a little encouragement, so he loudly rumbles the title of the book in his deep voice. But poor Bear doesn't listen too closely, and he follows the directions of what he thinks he has heard. Again and again this happens, with more creatures gathering around and Bear acting in silly ways as the tree gets louder and louder.
Eventually, Bear gets with the program and realizes what the tree is telling him, and of course, he then notices all of his bird, rabbit, mouse, and squirrel friends with whom he's happy to share his treasure trove of berries… but not before providing readers with some giggles.
This picture book will make for a rousing read-aloud, especially if children are encouraged to help with the old oak tree's repeated refrain! Will Hillenbrand's illustrations bring the forest to life, with lush scenery and adorable animals. Check out the trailer to get a feel for the book:
A game to accompany this picture book can be found on Hillenbrand's
website
, along with ones that feature his other book characters, as well.