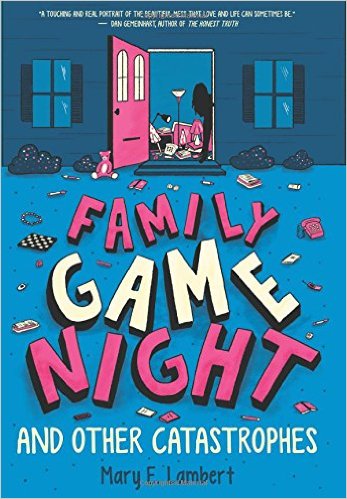 What could be catastrophic about a family game night? It starts with a grandmother who has come into town against your mother's wishes, features an assortment of games, none of which have all the pieces, also includes a teen brother who keeps looking at his phone, waiting to leave, and to top it all off, it is played at the kitchen table which is surrounded by tottering piles of newspapers (sorted by weather, of course), one of which toppled over on your younger sister earlier that week.
Annabelle is trying to maintain the look of a normal middle schooler, but she can't have anyone over to her house, because it's so full of stuff. Her mom is a hoarder. A couple of years ago, Annabelle took back her space, throwing the items out her bedroom window. Now her little sister is having nightmares about the toy graveyard in her own room, made worse after the stack of newspapers could have crushed her.
She also doesn't want to tell anyone, because they might be disgusted, or worse — pity her. Even worse than that, someone might get child protective services involved.
My 7th grade son Kyle and I read this book aloud together. We both LOVED it. Annabelle's voice is honest and not overly "too too" as some middle grade heroines can come across. She was funny and honest, and just right on about the worries that plague this age group. The friendships are realistically portrayed, as are the sibling relationships and even a little middle school romance.
The subject of hoarding makes a fascinating backdrop. The issue is handled with sensitivity, even from the point of view of the daughter. We see a bit of the mother's struggles and the feelings of the grandmother as well, mostly from Annabelle's perspective.
I enjoy reading books like this with my son. I think if I handed it to him, he probably wouldn't have read it. It's about a girl and her friend and the boy she likes, but he didn't once complain and each time I read a particularly keen observation made by the heroine, and commented, "I really love her voice," he agreed.
I believe Family Game Night is a first novel, and I can't wait for more from Mary E. Lambert. This was a five-star read for sure!