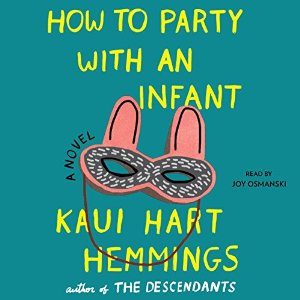 Mele is the single mother of 2 year old Ellie who finds herself in the position of having to decide if she is going to attend her ex-boyfriend Bobby's upcoming wedding, in which Ellie will be flower girl. To distract herself, she decides to enter the San Francisco Mommy Club's cookbook competition, which requires answering a questionnaire about herself as a parent and her relationships in the SFMC playgroups, among other things.
Mele's answers are glaringly honest and often brutal but almost always funny. She also uses stories provided by the other parents in the playgroup of like-minded parents, including stay-at-home dad Henry who Mele is attracted to, coming up with recipes based on what's going on in their lives.
How to Party with an Infant has characters any mom can relate to. They have problems in their marriages, kids of varying ages that they don't quite know how to handle, and worry about fitting in and being judged. Mele is a mom you can root for even as she unintentionally steals a belt meant for charity or seethes over Bobby's cheese-making fiancee.
Mixed in with the chapters are posts to the SFMC message board, which are full of judgy sanctimommies and an anonymous poster who sarcastically mocks them, and I found myself laughing at the ridiculousness of it all while also reminding myself there are really parents like that in the world.
Notes on the audiobook:  I've listened to other books read by Joy Osmanski and have always enjoyed them. With a running time of 7 hours 14 minutes How to Party With an Infant is an easy listen.