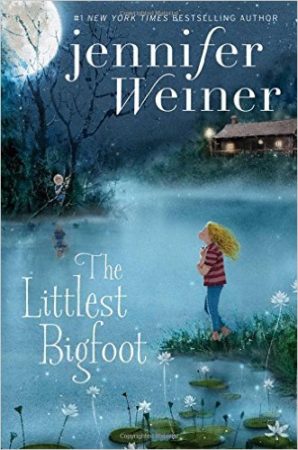 There is something magical about middle grade fiction, whether it is a story about a couple of friends at school or a kid trying to make the soccer team or wizards performing real magic. I don't know if it's because as an adult I'm marveling in the innocence or relieving the days when books about girls on the prairie and in orphanages and experiencing their first crushes on boys swept me away.
At any rate, it didn't take me long at all to fall in love with The Littlest Bigfoot. It has a typical magical middle grade plot: two girls from two different worlds who felt like outsiders among their people and who end up loving and supporting each other.
Alice is a big girl. She's clumsy, her hair is unruly (I was sold when Jennifer Weiner wrote a whole page about said hair and how it defined Alice), and she is nothing like her put-together parents.
Living with the Mane, as she called it, was like having a three-year-old on top of her head, a little kid who refused to listen or be good, no matter what bribes she offered or what punishments she put in place. "Behave," she would whisper each morning, working expensive styling glop through the thicket before combining it carefully and plaiting it into thick brades that fell to the middle of her back" (page 2).
Alice's parents have sent her off to school after school, and Alice is always asked to leave for breaking something or not falling into line. She's not disobedient or unruly. She's just different. The consultant that her parents have hired to vet the schools to try to find a place where Alice will — finally — fit in. She goes to a place called the Experimental Center, a sort of commune type of place, where there are learners and guides, not students and teachers,vegetarian cuisine, and some self-directed learning activities. Alice still feels like an outsider and doesn't make friends with the other 12-year-old learners, but she begins to become more comfortable with herself, spending her mornings using her big strong legs to run through the woods and preparing snacks with the camp cook.
Millie is a bigfoot. She is different, with an insatiable thirst for the culture of the No Furs, whereas the other Yare (what they call themselves) fear them. She is small and her silvery fur sets her apart. In a quest to find a TV to watch the final episode of The Next Stage, she meets Alice on the shore of the lake at the school.
Eventually, they reveal themselves to each other and learn about each other's culture — and yes — even find a way that they can bring their two worlds together.
This book was funny and sweet and thoughtful. I kept being surprised by the writing, thinking I was reading some celebrity's attempt at children's literature, and then I'd remember that though Jennifer Weiner is new to the genre, and is a bit of a celebrity, she is a skilled writer. Her first foray into middle grade fiction was a success, in my opinion, and I would love to read more, either about these characters or new ones.