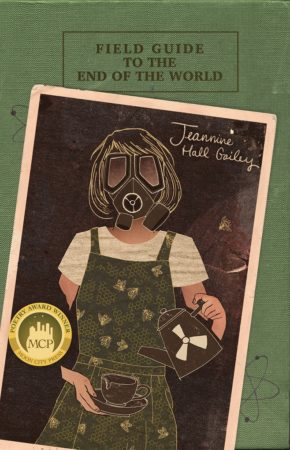 Writing with a piercing, mordant wit and a skeptical eye, Jeannine Hall Gailey gives us a fresh, funny look at the human condition in this new collection of poems. Field Guide to the End of the World looks at our current fascination with dystopian fantasies, the writer's own mortality, apocalypses both planet-wide and personal, and the fact that human connection is what gets us through. There is snark here, no one is going gently into that good night, but there is also dignity and depth and beauty that takes your breath away.
This is a brilliant book. I usually like to read poems slowly, pausing between each to savor them, but I have to admit I gulped this book down like I was a labrador puppy being fed steak. It is the best book I have read in a long time in any genre.
Here are a few of my favorite bits:
Are We There Yet? looks at all of life as a car ride. "The sky-blue Plymouth of our lives is lined/in sticky vinyl and no one is playing the music/I like…We're in a hurry to reach the end of our journey/settle down in our final destination." Martha Stewart's Guide to Apocalypse Living includes such tips as "Razor/wire goes beautifully with your holly thicket" and a "guide to storing munitions in attractive wicker boxes." On the 5th Anniversary of Fukushima, I'm Injected With Radioactive Blood Cells is the title of a poem that contrasts cancer treatments with nuclear catastrophe, a natural connection.
Gailey had me actually chuckling out loud in Starbucks, earning side looks. Job Interview at EndTimes ExpressSystemics attracts potential employees with "Desired skill set: building fires, setting traps, fashioning weapons/out of unused office furniture."
I loved the series Post-Apocalypse Postcards, scattered throughout the book playing off various tropes–an Anthrolopologie catalogue or American Girl, proving that consumerism will remain with us till the end, the Post-Apocalypse Christmas Card, with Love Note, or From an Appalachian Chalet. "If I smell the air I can believe." And yet these postcards are acknowledged in another poem: "I've been sending you postcards in mailboxes/that will never be emptied knowing you will never read them/never see them never see me again." Although bleak, another poem says "If we can still remember, then somewhere things must be better than here."
This book is so good I can't do it justice. So just go buy it. You'll be glad you did. You will find yourself reading segments aloud to husbands, children, roommates, cats, whoever will stop a minute and listen. The world may be ending, all that is temporal passing away, but we can survive it together: "All I need right now is your the simple weight of your hand, the warmth of your breath, and this last cup of coffee to tell me–we are miraculous."