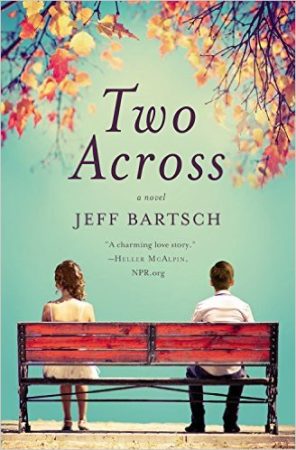 What do you get when you cross a spelling bee, a love for completing and composing crossword puzzles, and a pen named Socrates that writes in invisible ink? You get Jeff Bartsch's novel Two Across.
In 1960, Vera and Stanley, 15, become the first ever co-winners of the National Spelling Bee. They strike up a friendship, which intensifies over time when the previous winners are invited back to the contest each year. Being awkward unconventionally-raised teens, they find it hard to express their mutual admiration. Vera is thrilled when she's accepted at Radcliffe, knowing that Harvard is the school that Stanley has set his sights on. Stanley has different thoughts.
He asks for Vera's help to stage a phony marriage in order to raise some funds to live on his own instead of attending college. Because Vera has feelings for him, she says yes. This is their first deceit. It is not their last. Their paths continue to cross and diverge over the decades, with some questionable choices putting distance between them. Of course the biggest obstacle is that either of them are unable to sustain a connection. One of them ends up running away or not saying what they mean just when things seem to be coming together for them.
The way this story was told was completely unique. The timeline was somewhat fluid, sometimes following Vera for a few years, then going back in time to see what Stanley had been up to. It wasn't at all confusing. It gave the mostly quiet story with the predictable "will they or won't they" theme, a bit of suspenseful tension.
I think that this was about the most perfect last chapter that I've ever read. I was enjoying the book to that point, but the last chapter — not just the ending per se, but the way it was delivered — put it up a few notches.