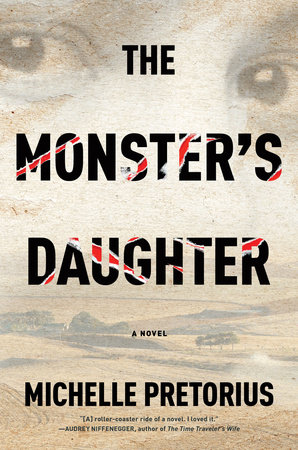 For those worried about the state of the world today, there's nothing like looking back over 100 years of South African history to realize that things aren't so bad quite yet. The more things change, the more they stay the same. By setting her novel both in modern times (2010) and throughout the past century of the Boer War, apartheid, the Truth and Reconciliation Commission, and more, author Michelle Pretorius has given us a suspense novel with a hint of fantasy and a lot of history.
The story opens with Alet Berg, demoted after a relationship with a colored superior officer (I mention that because this is South Africa, remember?), dealing with life in small-town Unie. A shocking discovery of a murdered body burned beyond recognition sends Alet on a journey of discovery that stretches back over the decades.
Action moves to the time of the Boer War, when English atrocities such as their Scorched-Earth policy put the Dutch Afrikaans into concentration camps, specifically the women and children. One doctor stole young women away and conducted medical experiments on them that resulted in mutated babies. Only two of the children survived–Tessa and Ben. Their DNA is not human, and their life span is triple that of normal humans. Tessa is raised by a humane British officer who was disgusted at the atrocities he was expected to commit and his black wife, a woman who worked for the doctor and fled with the child. Ben is spiritually, emotionally, and physically abused in a group home and specifically by a matron who sort of adopts him, messes with his head, and turns him out to the world as a complete psychopath. As an aside, there is not one single positive portrayal of a Christian in this book–without exception, everyone who claims to follow God is violent, lying, abusive, and massively hypocritical.
Tessa and her parents keep having to move to keep hidden. They have one child together, Philip, who is considered black because of his mother and serves as a focal point for portraying many of the atrocities. Tessa eventually meets Ben–they are both passing for 12 but are really in their 30s by this point. Meanwhile, Afrikaans control the country, and have begun to pass anti-black laws and put apartheid into place. We see up close the heartbreaking realities of these policies, the murders and tortures, the lies and deceptions on all sides. We see every single racial group harmed by this brokenness. We watch as Ben joins the police, decides he's God's Avenging Angel, and begins to commit a series of murders while under the guidance of Alet's father Adriaan.
I'm telling you too much. The action goes back and forth as Alet fearlessly continues to investigate, even though she's putting her own life in jeopardy and also facing the fact that she may end up investigating her own family. At first she dislikes the uptight older black policeman who is her partner, but the two develop a grudging respect for each other. The action builds as disparate sections of the story begin to coalesce and Alet comes closer to discovered who killed the murdered woman, and who she really was.
The Monster's Daughter is well plotted and researched, and it does an excellent job of taking us back to parts of South Africa's darkest history, as well as delivering an exciting modern story of police corruption and one woman's fight to bring it to light. However, it may be trying to do too much. At 450 pages, it's a blend of suspense novel and history textbook. There are many subplots and people to follow, and it's at times a little unwieldy. It's the sort of book that would be great for a long airplane ride or any other time you have some extended reading time. I enjoyed it and would recommend it, especially to those who enjoy learning some history with their police thrillers (which I do).