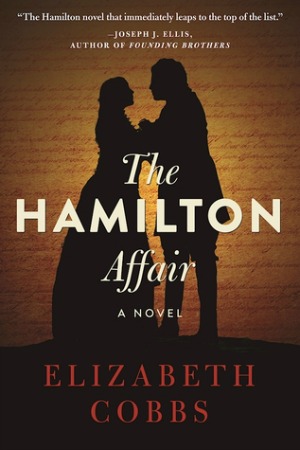 With Elizabeth Cobbs' new historical novel The Hamilton Affair, America's "forgotten" founding father continues to shine in the spotlight. If you find yourself thinking in Hamilton lyrics, this may be the novel for you to devour on a lazy summer afternoon.
Opening on an eleven-year-old Alexander doing an errand for his mother, the story follows his life all the way through his untimely death at the hands of Aaron Burr during their infamous duel. Along the way, readers encounter the historical characters with whom they've become familiar, either through the Hamilton musical or actual study of American history, with the greatest focus on Elizabeth Schuyler, as one might imagine.
Their courtship plays out gentle and sweet, and even though there are references to Hamilton's "Tomcat" nickname prior to his marriage, his amorous past isn't highlighted, and he comes into their relationship with genuine love. Their lives are soon filled with child after child (after child), and the challenges that they face in their marriage feel familiar to even 21st century readers.
The title might indicate a sole focus on Hamilton's well-known affair with Maria Reynolds, to which he publicly admitted with his publication of the "Reynolds Pamphlet" in order to save his career, but that part of Hamilton's story doesn't come into play until halfway through the novel. For much of the remaining story, the effects of this affair linger, first causing Alexander guilt and shame as he fears Eliza discovering the truth, and then in the pain suffered by Eliza when the story does come out.
I admit to being a bit surprised by the level of sympathy granted to Alexander in regard to his affair, a point which I appreciate in the musical's harsher depiction. Additionally, the roles of Alexander's relationship with both Angelica Schuyler Church and Aaron Burr play relatively small roles in this narrative, with no mention of his ongoing correspondence with Angelica. His and Aaron Burr's feud isn't portrayed as such a major motivator in Hamilton's life until the final chapters of the novel.
Overall, I enjoyed immersing myself in Hamilton's life again, in greater, albeit fictionalized, detail.
—————————————-
Though this novel may draw in older teens who have fallen under the Hamilton spell, it is not for children, much to my 10-year-old daughter's chagrin. If your children are as Hamilton-obsessed as mine, be sure to check out my thoughts on all the good that's come into our lives since we were introduced to the musical in Got Hamilton?