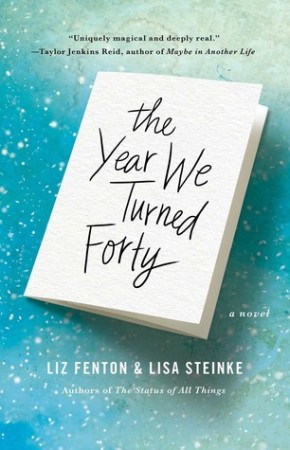 The year of their fortieth birthdays was an eventful one for 3 friends Jessica, Gabriela, and Claire. Jessie gave birth to a child conceived from a one-night stand with a married friend which signaled the end of her own marriage, a fact which breaks her heart every single day. Gabriela realized she did want a child of her own after all, but she buried the thought and wrote a best-selling novel instead, propelling her career to new heights. And Claire's mother died of a cancer that wasn't caught soon enough, which helped spiral her already fragile relationship with her own daughter out of control.
10 years on, the 3 women are in Vegas to celebrate their 50th birthdays in style. A mysterious magician gives them the chance to go back for one year, and make the choices they wish they'd made. Then, together they will have to decide whether they stay in their past or return to their present.
It's an interesting premise, and authors Liz Fenton and Lisa Steinke handle it well, delving into the nuances of choices and the fact that other people never react in real life the way they do in our imagined confrontations. The women arrive back in time just as Jessie's in labour, so she can't change that decision. Instead, she throws herself into saving her marriage. But she runs into the father of her baby and his wife at a coffee shop–something that didn't happen last time around–and the man decides he wants to be involved. Meanwhile, Gabriela first has to convince her husband to have children, then she throws herself into round after round of IVF, desperate to conceive before the year is up, only to see the toll it's taking on her marriage. And Claire gets her mother to a doctor earlier, but the cancer seems to be moving faster too. Plus, her daughter is acting out in ways that she didn't the first time round, precipitating the ugly clashes between the two of them.
The Year We Turned Forty handles its subject matter well. It manages to be both a fairly light read and yet be thought provoking. We all like to look backwards and think of things we wish we could have changed, but the fact is that all of our choices have unwitting and even unrecognized consequences. I also liked how the men, while all minor characters serving as foils for the main three women, still managed to have minds and thoughts of their own. They didn't just fall in where their partners would have them. Instead, their feelings and ambitions had to be acknowledged, just like in real life relationships between two people. The novel is done well, and the characters grow and change and benefit from lessons learned the hard way.

Would you change something if you could? Please check out my post at 5 Minutes for Mom about what I would have done differently, as inspired by the book.