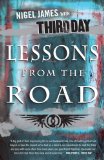 Nigel James is the road pastor for the unbelievably popular Christian band Third Day. Lessons from the Road incorporates some of Nigel James' thoughts and teachings about doing God's work, along with reflections and revelations from the band members themselves.
If you are a Third Day fan, this book will certainly be appealing to you. There are stories about how the band got together, and personal thoughts from the members. The insight into the origins of many of the popular songs, as well as how those songs have been used in an ongoing way in the lives of the members, will make you respect this group even more. The line between entertainment and ministry in the Christian music world is a fine one. In hearing Nigel James' and the other band members' thoughts on this, you can't deny that for Third Day, their focus is on ministry.
I like Third Day's music well enough, but I'm not a rabid fan, and in fact don't even own any of their CDs (except for their Christmas one, I think). But I am involved in ministry, and from this perspective, I really enjoyed this book. James shares honestly about the cost and the payoff of serving in ministry, including the pitfalls and temptations that popularity causes. As someone who has been involved in ministry — even being "out front" on occasion — this resonated with me, and reading the book was almost like having a mentor, encouraging me in my service to God.
I read this book in the month leading up to my own "road trip" with Compassion International, and at this very moment I am indeed on the road. I'm pretty sure that I'll come back with a few lessons as well.
All this week, I'll be posting daily at 5 Minutes for Mom about my first-hand experience seeing the work of Compassion International in the Dominican Republic. Each day there will be some sort of relevant review here at 5 Minutes for Books, reminding you to check in with me there. You can see the feed of all the bloggers' posts at compassionbloggers.com.