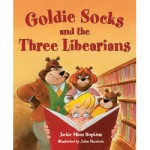 Too fun. Too cute. Too much?! Not enough. I love books. I love books about books. I love books about the library and I love going to the library. Enter Upstart Books and their delightful titles which focus exclusively on such topics. For a good laugh, try Goldie Socks and the Three Libearians. In this particular story, Goldie is looking for the perfect book and the perfect comfy chair to read it in. This is an extremely cute book.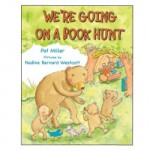 We're Going on a Book Hunt can be read or sung (to the tune of, you guessed it!, Goin' on a Bear Hunt!). This book would be great for a reading to a group of kids who can get into the song and story. It deals with topics such as how to behave in a library to how to find the perfect book. This book is both inventive and creative and I think it's perfect for library story-time.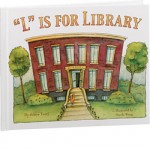 "L" is for Library takes you through the whole alphabet, library-style. ("A is for author, B is for biography, C is for Caldecott, D is for the Dewey Decimal System, which helps us organize.") This is a good way to explain the library to young readers who are still forming and identifying letters themselves. I honestly think this book was my favorite of the three for its simplicity in communicating information about a place I love so very much. However, the other two titles do a good job at drawing kids in and growing a love for books.
These books are fantastic and I find myself getting really excited about them. Have you seen them? Have you used them? If not, look into them. They are something else!
Carrie comes by her book obsession honestly, having descended from a long line of bibliophiles. She blogs about books regularly at Reading to Know.