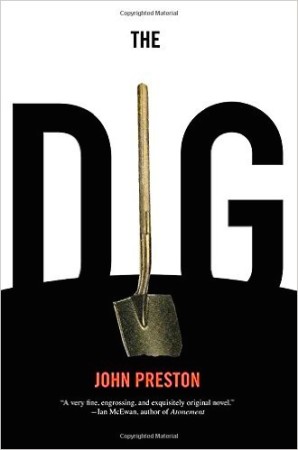 The Dig reads like literature. One of the book jacket blurbs compares it to Chekov and I could see it. Everything is kept very surface, and yet you can see the undercurrents of love, loss and emotion surging around underneath as people reveal themselves through dialogue and actions. And it's all focused on the dig itself, and the wonderful mysteries it contains, and the greed and longing it stirs up.
It's summer of 1939, and all over Britain, there is talk of war. Everyone knows it's coming, and are dreading/ready for it to varying degrees. In one hot corner of Sussex, widowed Mrs. Pretty has finally decided to have some of the giant mounds on her property excavated, rather as a memorial to her late husband, who was convinced that treasure lay beneath. Everyone is rather down on the idea, telling her that anything of value will have been long stolen, but she's determined. And of course she's right, we know this from the beginning, because this is a fictionalized version of the famous Sutton Hoo dig. (I linked to the Wikipedia page so you, too, can waste your afternoon burrowing down that rabbit hole of wonders. Seriously, just look at the pictures really quick!) The result is a novel that reads like a New Yorker piece–a well honed work that seamlessly blends fact with fiction.
Mrs. Pretty initially hires local man Basil Browne, who though not technically trained has a great sensitivity and feel for both archaeology and geology, or for simply "the soil" as the author puts it. The novel opens with a brief prologue in which Basil makes his first great discovery and rushes up to the house to tell Mrs. Pretty about it, only to be told in no uncertain terms by her butler that she is getting ready for bed and not to be disturbed. It's interesting how this sets the tone for the book, in which class very much plays a part. The storyline is picked up by Mrs. Pretty, who was in her late 40s when her only son was  born and who isn't strong and appears much older than she really is. She worries about her young son Robert, who's lively and bored a lot of the time, and who occupies himself at the dig site very happily. Basil is most capable but the discovery of a "ghost ship"–in other words, the wood of the original ship has actually decayed and left its impression in the sandy soil–can't be hushed up, and he is soon replaced by self-important professionals, who steamroll Mrs Pretty and Basil both in order to insert themselves into the process, only to be replaced themselves at the national level. At the end of the book, the courts decide who actually owns the treasure.
A third voice is Peggy Piggott, a newlywed who married her professor and is adjusting into her life as a "pretty young wife" rather than a "bright young student," with all the ensuring barriers and walls that her new role gives. She, too, gets involved with the dig, and brings her nephew in to photograph it. Her young marriage gives a great look into marital roles of the time, with her husband seemingly quite open-minded, and yet really not. And through it all, as more and more treasures are discovered, the reader feels a sense of breathless excitement, wondering what will turn up next!
The Dig is really well written and gives us a deceptively deep view into the human psyche, managing to capture an amazing amount of detail into ordinary lives at an extraordinary time. If I was teaching a Contemporary Lit class, I would put it on the syllabus. You get caught up in the excitement of discovery, and as annoyed on behalf of certain characters as if you were they. It's the sort of book that will be even better the second time through, because it is so nuanced that I'm sure there are a lot of things I missed. Highly recommended.