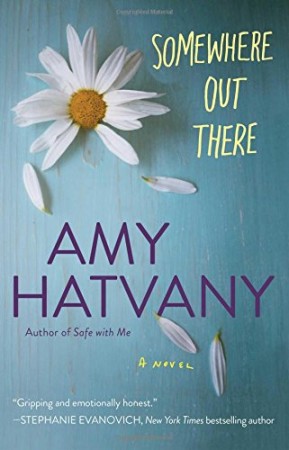 I was adopted as a baby, so it makes sense that I'm drawn to books about adoption. Amy Hatvany is an author I enjoy, so I ignored the comparison to Jodi Picoult (no offense to her fans, she's just not my cup of tea) and checked out her newest, Somewhere Out There.
Jennifer Walker loves her daughters, 4 year old Brooke and 6 month old Natalie, but the truth is she can't take care of them with no job and no place to live. When she leaves them in the car they've been living in and gets picked up for shoplifting, she decides to do the best thing for them – surrender them to the state.
Natalie is quickly adopted by a couple who only wants a baby. Brooke has difficulty accepting the fact that her mother isn't coming back and goes from foster home to foster home before spending her last 4 years at Hillcrest Home for girls, then aging out of the system.
Fast forward to the present, and Natalie is happily married with two kids of her own and a burgeoning home baking business. When her daughter comes home with a family tree project, Natalie once again wonders about her birth mother, and is shocked when her parents reveal that she also has an older sister. Brooke has done ok for herself, considering her rough start to life, and is apprehensive about Natalie finally finding her after all these years. She doesn't open up easily, and finds it difficult to trust Natalie.
Somewhere Out There alternates chapters between the three women. Jennifer is released from prison early, but quickly ends up back inside. She's assigned a work release program and once she's again released, manages to make a life for herself. She knows in her heart that she did what was best for her girls and has worked hard to put it behind her. Having them show up suddenly is not something she has expected to ever happen.
I really enjoyed Somewhere Out There, and Hatvany is a talented writer whose characters are unique and a story that keeps the pages turning. There is the typical falling out between the sisters and then an event that brings them back together, but the ending was not quite what I expected. I would say that fans of Jodi Picoult would enjoy this book, but don't let that comparison stop you from reading it either.