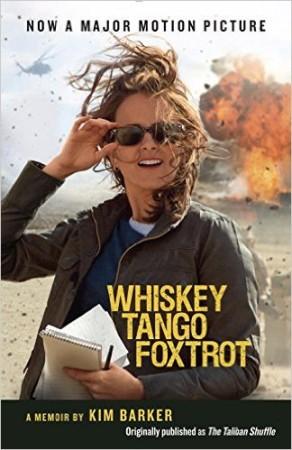 I was pitched Whiskey Tango Foxtrot, in this way: WHISKEY TANGO FOXTROT, the upcoming movie starring Tina Fey, Margot Robbie, Martin Freeman, Billy Bob Thornton and Alfred Molina, is based on Kim Barker's memoir of her time reporting in Afghanistan and Pakistan. Kim uses her sharp wit and humor to describe her dangerous and exciting time in these troubled countries in her book.
I enjoy memoir, and I was in need of some humor in my reading cycle. I particularly like books — both fiction and non-fiction — which feature women doing something different or unexpected or extraordinary, so I looked forward to reading about one woman's experience reporting on the "forgotten war."
It was interesting, full of all the moral quandries which have been a part of the United States' involvement in the war in Afghanistan for all these years. Kim made a home for herself there, having fled personal circumstances and a dead-end career in the states. Kabul gave her purpose, and as dangerous and uncertain as it all was — both the war and the state of print media at this time — she wanted to finish it out.
She repeatedly refers to the experience as a "high school" of sorts. With the stress-relieving social scene, the factions — sure, why not? She is certainly put in some interesting situations and interviews some fascinating and scary political figures. I wouldn't call this a comedy, though. Perhaps because the detail is so rich, and it's all so serious and dark, the quips aren't what stood out to me.
This is a re-release, very much tied in with the upcoming movie. So much so that a trailer was even included in the pitch:
I haven't seen the movie, so I don't know how closely it follows the book, but the basic bones seem to be there. I think this might be exactly the kind of movie that leads people to the book, for more details, and it might be easier to follow. With Tina Fey behind it, it's probably a movie worth seeing. Martin Freeman and Billy Bob Thornton are almost unrecognizable in the clip, and so I'm sure they do an amazing job as well.