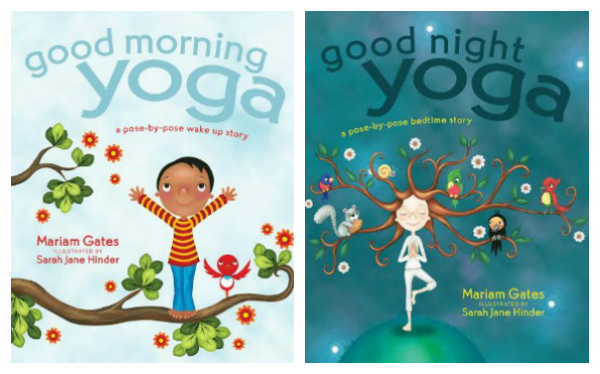 Anyone who has ever spent time with young children knows that they need physical activity each and every day. Learning simple yoga poses not only can provide a kind of physical outlet, but also encourages children to pay attention to their breathing and body control, two skills helpful beyond their physical needs. (Anyone who has ever spent time with young children in the midst of an emotional outburst can likely see how these skills can be helpful!) Good Morning Yoga: A Pose-by-Pose Wake Up Story and Good Night Yoga: A Pose-by-Pose Bedtime Story by Mariam Gates are two delightful picture books that engage children in simple yoga poses, with cute illustrations by Sarah Jane Hinder to put the poses into fun context.
In my own weekly yoga class, my teacher regularly emphasizes the importance of linking our breath to our movements, so I immediately thought she'd approve of these books' focus on beginning each pose with a long breath in. The focus of each book is apparent in its title, and the poses and yoga flow presented reflect the different types of yoga one might engage in to energize in the morning or wind down in the evening.
In Good Morning Yoga, rather than introducing the individual poses with their familiar yoga-specific names, a child is shown in the pose and compared to something that his or her body resembles. For example, a child in what I've come to learn as 'chair pose' (or Utkatasana) is shown with bent knees and arms raised, and is called "a lightning bolt flashing across the sky."
Good Night Yoga reads like a quiet bedtime story, taking note of all the changes in the world as the sun goes down. Elements of nature, including the night sky and different types of creatures, are the focus of the poses, so children following along can stretch to resemble a half moon, a bird, a tree, a ladybug, and others, finally coming to an end with the traditional 'child's pose,' a perfect way to get quiet and ready for sleep.
In addition, each book includes a visualization activity following a two-page spread of the entire yoga flow. The visualization activity gets children to take a moment to think intentionally. The respective themes of preparing to embrace a new day and to find an inner calm at the day's end are perfectly suited to these exercises, and again serve to teach young children meaningful lessons that can be drawn upon later.
I can see this book being used in a preschool or early elementary school classroom, as a combined literacy and physical education lesson, but it would also be lovely to simply read with one's own child at home, trying out poses and enjoying the colorful illustrations.
Mariam Gates speaks about the benefits of yoga for young children in the video below, and you can also hear her reading Good Morning Yoga here. In addition, you can encourage yoga time in your home, bookstore, or library with this downloadable kit.