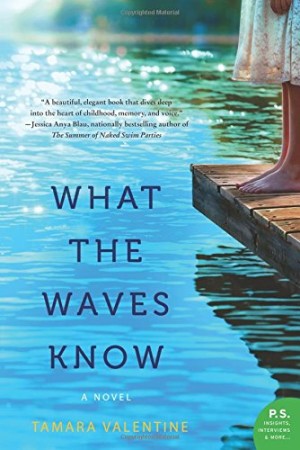 Every so often you read a book that sticks with you. And while you're reading it, you know it will stick with you. What the Waves Know by Tamara Valentine is one such book.
Izabella Heywood worships her father. At age 6, she believes his fantastical dreams, crazy adventures, and claiming to hear woodland sprites are all there is to life. But when she yells at him to go away in a fit of anger and he then disappears, she blames herself. Iz stops speaking, terrified her voice will inflict more damage on her loved ones.
8 years later, Iz's mother, Zorrie, has gone through doctors, therapies, and countless words of advice without successfully bringing back her daughter's voice. She decides to take Iz back to the scene of the fateful night on Tillings, an island off the coast of Rhode Island, and is joined by her own mother, a hippie who is the polar opposite of her straight-laced daughter.
As Iz, her mother, and her grandmother settle into island life, Iz becomes intrigued by Remy, their neighbor who also runs the island ferry and knew Iz's father, and Riley, a handsome teenage boy who seems to hate her for no reason. Iz gets the feeling that the locals know more about what happened to her father than she does. Memories slowly come back to her, and she overhears conversations that distort her perception of her father and cause her to come to a new appreciation of her mother.
What the Waves Know takes place in the early 1970s, though it could easily be set today, except for the understanding of mental illness that exists today. References are made to Iz's father not taking his medication, and it becomes clear to the reader that he had an imbalance of some kind.
Before reading What the Waves Know I wasn't familiar with the legend of Yemaya, the Santeria Goddess considered the mother of all who lives and rules over the seas, or the Nikommo, tiny woodland sprites that it is said only descendants of the Wampanoag can hear. I love stories that intertwine this type of mythology. Tillings even has an annual Festival of Yemaya where they pay tribute to the goddess, and I enjoyed the way the story culminated on the festival day.
Iz is 14 when she tells her story, though she's not a typical teenager. Being unable to speak means she doesn't have many friends, and it's painful sharing her terrified feelings of what will happen if she speaks. An adult's perspective figures some things out before Iz does but experiences them along with her. And while the protagonist is a teenager this is not a YA book as it explores some adult themes, though I think older teenagers could handle it.
I enjoyed this book and highly recommend it.