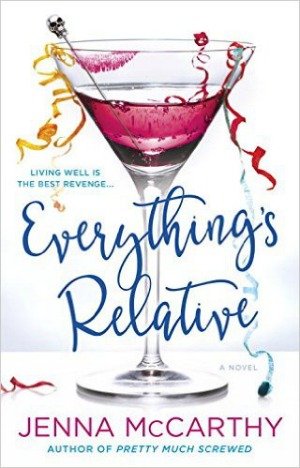 When their mother dies, Jules, Brooke, and Lexi may not exactly be celebrating, but their feelings aren't that far off. As demonstrated in the opening chapter in Jenna McCarthy's new novel Everything's Relative, the girls had challenging childhoods at the hands of their widowed mother. As adults, they're not particularly close to each other, but they are drawn together at the reading of their mother's will. Because even though she's gone, their mother is not quite done trying to control them.
Apparently, their mother had been hoarding investment money their whole lives, and her final wishes are to leave that money– and we're talking millions of dollars– to her three girls, but only if they play by her rules. Each is given a year to meet specific standards in changing their current lives, be it related to career, relationships, personal appearance, or maybe even all three. One might say that the changes outlined in the will reflect "what's best" for each of the women, but that doesn't mean they'll be willing to do the work, especially because of the source of the demands. However, millions of dollars are at stake, and money like that can be quite convincing.
The opening of this novel had me really uncomfortable and somewhat surprised at the depth of negative emotion from this usually pretty funny, lighthearted author. Thankfully, the introduction simply served as a snapshot of the lives of three sisters when they were younger following the death of their father. To say that their mother mistreated them is an understatement, but they all survived, each developing their own unique coping mechanisms. At first, each daughter seems a bit one-sided, but as the story progresses, we get to see more depth to their characters.
Humor comes second nature to McCarthy, and even though there are darker aspects to this story than her previous novels and (hugely hilarious) memoirs, it's not surprising to have quips, often with well-placed pieces of profanity, that cause a sudden burst of laughter while reading.