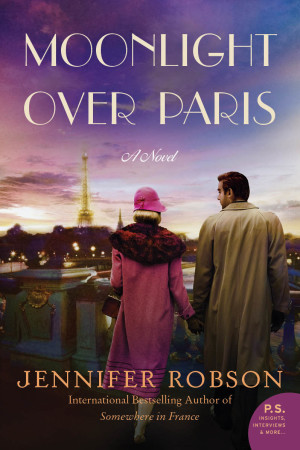 Lady Helena Montagu-Douglas-Parr is dying. She survived WWI, a broken engagement, social shunning and more, only to fall victim to scarlet fever. She vows to herself that if she lives, she won't waste another minute–she will seize life, follow her dreams, and go to Paris to study painting.
She pulls through, and manages to talk her parents into letting her gallivant off to the continent for an entire year in the company of her aunt Agnes, who's the widow of  a Russian aristocrat and hugely rich and also, a wee bit scandalous in her outlook on life–in other words, the perfect aunt to go live with, right? Helena, introducing herself as plain Helena Parr, is ready to start her new life. She heads first off to join her aunt on the French Riviera, where she paints during the day, swims in the afternoons. One afternoon returning from a bike ride in the dusty hills, she meets the dashing American Sam Howard when her bike tyre goes flat (That's British spelling, Spellcheck, so shut up!) After the summer, her strength much renewed by sunshine and exercise, Helena and Agnes move to Agnes' mansion in Ile St-Louis.
Moonlight Over Paris
is a fine book. It's escapist fiction–i.e. wouldn't it be awesome to take painting lessons in 1920s Paris and meet Hemingway and Fitzgerald and Gertrude Stein and fall in love and be rich and drink absinthe and espresso in the little cafes? And it would. I'd love it, I'm sure. Things go a bit perfectly for Helena with no more than life's normal ups and downs, and we all know from the minute she meets Sam…well I don't want to spoil anything, but if you've read more than 5 books in your lifetime, the ending won't be a complete shock. Yes, it's basically a romance, but the good kind where there is actual plot as well. It's also not too steamy, appropriate for your mother or your daughter!
Helena takes painting lessons from the shockingly rude Maitre Czerny, who either shouts at her incompetence or ignores her. She makes friends with Etienne, a handsome young man with a secret of his own (and her reaction to his secret proves this is a modern book), Mathilde, and Daisy, a young American with a dour chaperone who follows her everywhere. And she does learn to live, as is her goal. She changes from a docile, compliant young woman to one with a bit more spark, and learns from her friends a fair bit about life.
So, if you like to imagine yourself young and in love in Paris in the 1920s, seeing original paintings by Cezanne and Picasso hanging on the walls of ordinary mortals, spending afternoons in a garret studio painting the people you see on the streets, and your evenings drinking champagne cocktails and listening to jazz, Moonlight Over Paris will be a book you'll enjoy very much.