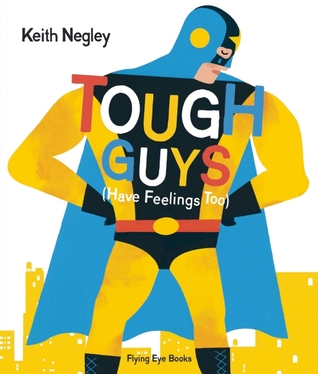 Superheroes, cowboys, and ninjas can be found in the pages of many picture books, but we usually just get to see one side of them as they fight or protect. In Keith Negley's Tough Guys Have Feelings Too young children get to see a bit more of these types of characters' more human and emotional sides.
Through bright, bold illustrations, these tough guys are portrayed in full costumes or gear in their particular environments. An astronaut floats in outer space with a melancholy expression visible through his helmet as he looks out upon the faraway Earth. Upon closer inspection, a photo of a woman and child is seen in his hand, giving young readers a clue about his apparent sadness. A cowboy being thrown from his horse looks as distressed as can be expected in the situation, as well. In what is my personal favorite illustration, a peg-legged, eye-patched pirate stands with his shovel poised to start digging while looking upon a map's bright red X. A single tear can be seen escaping his eye, and looking at the dozens of holes surrounding him, his frustration is understandable.
A knight, a superhero, a race car driver, a sea captain, and a motorcycle rider join the others in a variety of challenging situations, too. The text of the book is straightforward and simple to understand, emphasizing that bravery and strength do not preclude negative feelings. The message is far from preachy, though there is a valuable lesson to be learned here, important for all children to hear, but especially for young boys who sometimes need to be reassured that all emotions are normal and okay to express.
The text and the illustrations are perfectly paired, with a quiet tone to the words and much emotion and story conveyed by the pictures, which are colorfully appealing to young children and have a modern graphic art feel that can be mutually appreciated by adults, as well. Regardless of the gender of your child, this book is a must-add to your home library collection.