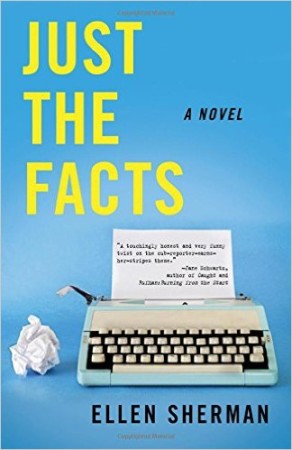 It's 1978, and Nora Plowright has just graduated from college with an English degree. She wants to write, needs a job, and gets one as a cub reporter for a local paper in rural Maryland. She starts off with a lot of enthusiasm, but finds herself wanting to make sure the people she interviews are happy with her finished piece, which the older reporters keep telling her won't make her a good reporter. She keeps busy reading the police blotter every morning and writing paragraphs about the more unusual crimes, and writing feature stories. Her editors like her human interest angles, and tell her she writes like a novelist, but at the same time they want her to be more aggressive.
At a routine public hearing for a new highway, she's approached by a polyester-wearing man who claims to have proof that the hearings are just a show; that a decision has already been made and construction started. The story–of corruption, graft, bribes, elected officials–could be her first really big break, but she's unsure of where to begin. She doesn't want to share too much with her colleagues lest they steal her thunder.
Nora is also dealing with all aspects of this stage of life. She shares a house with 3 other women, and navigates one of their mental health issues. She dates various men, including, briefly and disastrously, a colleague. She visits home and notices her parents' quirks in new ways, wonders about her father's attitude towards her brother, and finds herself viewing her family with the eyes of an outsider and insider both. When she decides to pursue the potential highway corruption scandal, she begins to get threats, and they scare her badly. She wonders if she's in over her head.
The title of Just The Facts plays off a journalistic stereotype, but the more she interviews people, the more Nora finds herself uncertain as to how to portray and capture them in print. It's not just that she wants to please them, or that she's happy when they tell her that they're happy with her article about them. It's that she wants to clean up their quotes, make them sound smarter, more articulate, just…better. "How arbitrary it all was: who I wrote about, what I wrote," she thinks at one point. "'Just the facts, ma'am,'" they said, but it was just the facts that you elicited, and then just the ones you chose to include." (p 176-177)
I could relate to Nora's struggles. I studied journalism at university and in the end realized that it wasn't for me–I too at heart want people to like me, and I want them to sound good too! Just the Facts
is a story about coming of age on a small local paper, and as such it is a delightful read. Nora's thought processes and dilemmas will be familiar to anyone over 25. In the end, she figures some things out, still wonders about others, and continues on that inevitable path to adulthood.