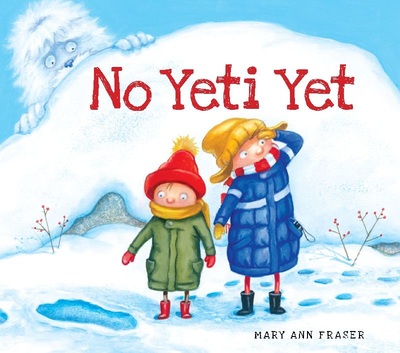 When the snow comes down, two brothers don all their winter gear and head out for an adventure. Sure, there's sledding and sliding on ice, like most kids love to do in the snow, but they also have an important mission– to find a yeti. Mary Ann Fraser's new picture book No Yeti Yet tells a silly story with lots of surprises in the illustrations for sharp-eyed children to catch.
The text of the story is made up of the conversation between the two young brothers. From his first glance out the window on the blustery, snowy day, the older brother declares it the perfect time for a yeti hunt. The younger brother, however, doesn't know much of anything about yetis, but thankfully his big brother is happy to help inform him all about them. He describes how they look, sound, and even smell, and tells him about their incredible strength. As they come upon the entrance to a large cave, the big brother is too focused on reporting on yeti's homes (large, snowy caves!) that he doesn't notice some key details all around him. His younger brother, however, is all too aware of the creature standing near them inside the cave!
When reading this aloud, expect your children to crack up as they point out all the action happening in the illustrations that escapes the two young boys' attention. Little do they know that the yeti has been nearby the entire time, even going so far as helping them out from time to time as they go across the snowy landscape. The soft blues and whites in the illustrations skillfully convey the brightness of a snow-filled day, and the fun style of the drawings makes the yeti adorable and totally worthy of two kids' adventurous searching.
We're happy to also be offering a giveaway from Peter Pauper Press. Enter to win a No Yeti Yet themed prize pack:
A hardcover copy of No Yeti Yet
A "Yeti Rescue Kit" which includes a plush orphan Yeti
A 16-page Caregiver's Manual with Passport, Medical Record, and Adoption Certificate
Follow the instructions below to enter to win. Giveaway open to U.S. residents only, please.