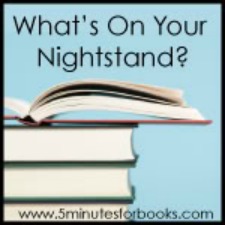 We asked — you answered! What's on Your Nightstand will now take place the last Tuesday of each month. I will try to remind, but as you know my record is not great. The next time we will have a month with a 5th Tuesday is December, so that actually works well, because otherwise it always got mixed up with Christmas. So, we'll have one on November 25 and then December 30.
I have been in quite the reading slump lately. I've listened to a few audiobooks, and read a bit, but probably I've read less in the last month than I have in a very long time. Part of that is due to a couple of books that i kept trying to slog through that were not grabbing my attention. I finally put those aside, and things began looking up.
What about you? How did your reading go this month? Any fun books on the nightstand to be read next? Link up below!