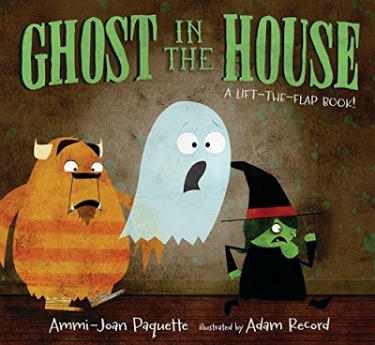 It's that time of year again when all things ghoulish are celebrated, and even young children can get into the fun with mild levels of spookiness. The new picture book Ghost in the House: A Lift-the-Flap Book by Ammi-Joan Paquette and illustrated by Adam Record delivers with no big scares or tricks, but a bunch of little treats in the form of flaps to move to reveal more not-so-spooky friends.
The cute little ghost is just a bit afraid at first when he hears a sound, but when he sees it's just his mummy friend, he's happy to have a friend with him in the old house. By the time his group of pals reaches five, the next sound that's heard is a voice… of a BOY! Talk about scary! The ghost and his pals must get out right away at that great fright.
This book of rhyming text counts the creatures as the join the group, but the real attraction is the fun spirit (pun fully intended) and the totally adorable illustrations that take away any scary factors about the imaginary creatures. Some of the flaps take on interesting shapes as the places in the house where  the creatures are hiding, such as the stair railing or the wide beam of light from a lamp.
Though the book does not mention Halloween directly, it certainly fits in with the theme. This could make a fun short read aloud for a preschool class before a Halloween parade, or for a group of young kids before heading out for trick-or-treating festivities.