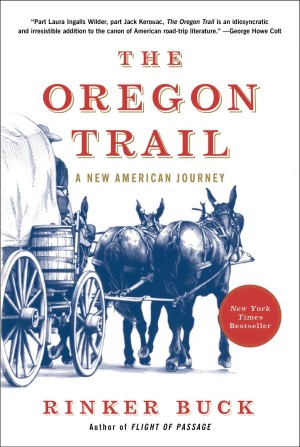 When I saw there was a new book about two men who travel the original Oregon Trail in a covered wagon pulled by 3 mules, it piqued my interest. Rinker Buck came up for the idea for The Oregon Trail: A New American Journey when he realized he didn't know much about that time in our history, and after going through a divorce he knew he needed a diversion. A rabid history buff, he decided the best way to learn about the Trail was to travel it from Missouri to Oregon, and he was going to do it the same way as the original pioneers.
Rinker originally planned to make the trek alone, but his brother, Nick, begged to join him, pitching his skills with horses and as a mechanic as the reasons Rink needed him to come along. Nick provides Rink with a much-needed reality check about what he really needs to bring on the trip (shoe shine kit, a Brooks Brothers bathrobe, and a pasta steamer being among the things that did not make that list), as well as ingenuity and creativity to the many problems they encountered along the trail. Nick's ability to drive a team made the trip a success, getting the wagon over mountain passes and through mid-western storms with ease.
Rinker's interest in history is clear in his descriptions of everything from how mules are bred and when they were first bred in the US, to the differences between different types of wagons, to the roles of women on the trail, and much, much more. He tells many stories about what he comes to call their trail family – ranchers and other folks they meet along the way who lend a hand or a place to sleep.
I loved the game Oregon Trail when I was a kid, as did most kids of the 80s, and everything I knew about the real Trail I learned from that game. Dangerous river crossings, dysentery, and broken wagon wheels were real perils that the original pioneers had to deal with, and while the Buck brothers' trip wasn't quite as difficult, they had their own problems, and I greatly enjoyed Rinker's telling of their recreation of the Oregon Trail.
Notes on the audiobook:  The Oregon Trail is read by the author. This has its pros and cons when it comes to non-fiction, especially when the author is not a professional actor. It's interesting to hear Rinker himself tell his story, but this is one case where it may have been better left to a professional. The audio also makes it harder to skip some of the more detailed and drawn-out parts of the book. One bonus on the audio is at the end there's a conversation with Rinker and Nick about their trip, and it was nice to hear Nick's actual voice.