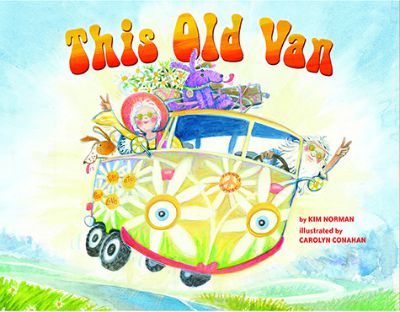 When I was still teaching preschool, my go-to song for getting the children all together before a class meeting was "This Old Man." It's silly, completely nonsensical, full of funny sounds and rhymes, and totally timeless. Kim Norman puts an entirely new twist on the familiar rhyme in This Old Van, a wacky romp that will make both kids and adults giggle.
When Gramps and Granny get an invitation from their grandson Jake, they begin packing up their old, flower-painted van right away. Through ten verses, Granny and Gramps travel down highways and country roads, through construction zones and parades, passing by all sorts of vehicles from school buses to dirt bikes, vintage cars to tractor trailer convoys. Making it to Jake's Downhill Derby Championship just in time, they've got to be thrilled with their grandson's choice of derby vehicle!
Carolyn Conahan's illustrations are silly and full of tiny details to keep curious eyes busy. Faces on the various vehicles give personality and attitude to the inanimate objects, and the "old hippy" theme is seen not only in Granny and Gramps' attires and groovy vehicle, but also in little touches like fonts and small images in the backgrounds of the illustrations.
Be sure to sing this book aloud for the full effect, giving new life to an old classic children's tune.