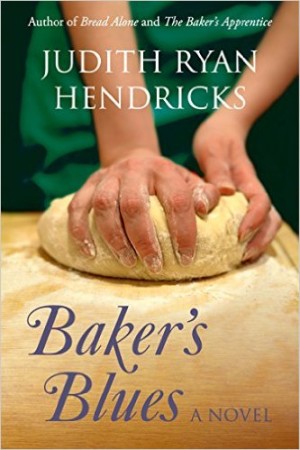 I haven't read (yet) the first two novels that are part of the Bread Alone series. Baker's Blues was my introduction to Judith Ryan Hendricks, and after having read it, I'm intrigued to figure out how this is the third novel in the series. It stands alone so well and encompasses a huge stretch of time, from the downward spiral of Wyn's marriage to Mac through to the aftermath of his death.
That said, the beginning of the novel was a bit of a challenge when this was a first reading of the series. The opening chapter is the memorial service that Wyn has arranged – as executor of her ex-husband's estate – for Mac. There are so many names thrown out of those who are both there and couldn't make it without explaining who they are, that it was confusing to keep track of why we should care about certain characters or how they're related – or even if they're important to the story of just thrown in as names, never to be seen again.
Fortunately, it soon becomes more apparent who the characters are and, throughout the book, the history of their relationship with Wyn. Though the book starts with the memorial service for Mac, it quickly falls back into years past and her history and problems with Mac – an in depth understanding of how and why they split up. Mac was a challenge, and he didn't deal with his success as an author as well as he needed to, and the same holds true with sharing the fact that he discovered he had a sixteen year old daughter from a relationship he had long before he ever met Wyn.
Fortunately, Wyn has her bakery to keep her steady, both in the flashback and the present day. The rhythm of baking and love of bread and yeast are what help to center her. She's challenged in the present by the mess of having to sort through Mac's home that used to be her own, as well as his financial affairs whose proceeds go to Mac's now 23 year old daughter Skye. Skye blames Wyn for the death of Mac and for the divorce in the first place, making it that much more awkward as Wyn would love to have a relationship with Skye but doesn't know how to break the tension.
As she's grieving and trying to understand why she feels so much pain for a marriage that ended more than three years prior, she flashes back to her life with Mac as it was just prior to her learning about the existence of Skye and we gain a deeper understanding and appreciation for how and why she made the choices she did.
Interestingly, some of the flashback is also told from Mac's perspective, particularly the aspects Wyn wouldn't be privy to, like his journey to New Zealand the first time he reaches out to create a relationship with Skye. Through those, we see a more full picture of him and understand a bit more why Wyn left him but still maintained a friendship with him.
Hendricks created a beautiful story and powerful characters who are – as we all are – flawed but caring and striving to do their best in the situation they find themselves in. They may make some mistakes, but they learn from them, and you can't wait for each of them to find their own happy endings.
Even having finished Baker's Blues, I'm still not sure how this is the third book of the series and what other aspects of Wyn's life they cover and explore. But after getting to know her and understanding who Skye and CM and Taylor and Alex are, I'm intrigued enough to look into reading Bread Alone and The Baker's Apprentice.
Written by Michelle who would happily spend her day baking bread, if only it didn't mean waking up at 3am to start. See what she's whipping up in her kitchen instead as she shares recipes and more on her blog Honest & Truly! and follow along with her on Twitter where she is also @HonestAndTruly.