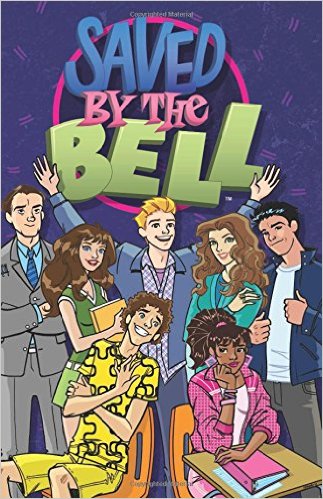 I was surprised when a copy of Saved by the Bell Volume 1 arrived in my mailbox, but I have a tween and a teen who enjoy comics, so I was happy to check it out.
My 11-year-old son looked at it, and the story didn't grab his interest. He did say that he liked the art. Two artists worked on it, Chynna Clugston Flores and Tim Fish, alternating chapters, but it does have an overall seamless flow, even though the characters look different. It is written by Joelle Sellner, and though it has the great 90's vibe, it also feels updated. Lisa's fashion vlog is the focus of "Fashion Don't," all the kids have cell phones, and Diva Pop Star holds auditions at Bayside High.
The first episode/chapter is called "Zack to School" and starts on the first day of school. Zack of course is making the moves on Kelly, but Kelly's big heart is making room for new-guy Slater, which is driving Zack crazy.
Screech is the focus of "Screech Super Powers," and the rest of the gang are featured throughout, though Jessie seems to get shorted as a predictable supporting character.
My son is probably too young for the dating and high school themes. Though there was nothing inappropriate, it just didn't interest him. That said, adult die-hard fans of the show or junior high kids or high school kids who enjoy light-hearted realistic comics will enjoy it.
The episodes are also available individually on Kindle.