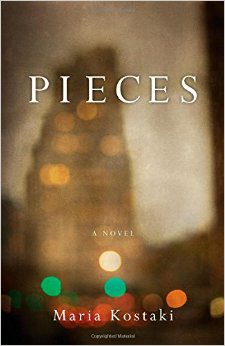 Sasha, age 35, is dealing with the aftermath of a seriously messed up childhood. Born in Moscow, she was abandoned at an early age by both parents and left to be shared amongst 3 of her grandparents. Her father disappeared into drink, drugs, and a new family, and her mother married a rich Greek and moved to Athens. Sasha joined them in Greece when she was 7. In a letter to her stepfather, she writes, "The first seven years of my life…feel like…it's as if a part of me were cut off and put in storage while I grew without it. The rest of the pieces are just that. Pieces. It's like a puzzle that I can't seem to put together." (103) That's not surprising, as the reader begins to learns just what those pieces are made of.
The story opens with the funeral of Sasha's stepfather Michael. Sasha is 30, living in New York, when her mother leaves a message on her answering machine, announcing the death. Sasha flies to Athens, to a crowded group of colourful people, and we begin to see glimpses into her mother's character, and what Sasha's life will be when she moves back to Greece the following year and into a dead-end relationship with an ex-boyfriend and a dysfunctional relationship with her mother.
Sasha's childhood and adolescence were grim. Her mother is narcissistic and clueless, often cruel, and it's obvious to all that she prefers her younger son, Sasha's half-brother. Her stepfather is volatile, an alcoholic prone to violent rages in which he beats her mother, frequently breaking bones. Sasha yearns desperately for love and acceptance, and as an adult is therefore attracted to men most of us would describe as losers as she continually searches for a father figure to love and protect her, although she is usually the one doing the rescuing. Yet the story somehow manages to avoid the cliches that my description has probably conjured up, mostly through the strength of the writing style.
Sasha grows up attending an American International School so she never really learns Greek. Her best friend's family adopts her into their loving embrace, her friend clear-eyed through the craziness at Sasha's house. When she goes back to Russia, the strength of her emotions unsettles her. The novel moves leisurely through time, from adult Sasha to teen to child to adult again, but it's never hard to decipher, although I would sometimes forgot who was a cousin or a friend's husband or brother. It moves in and out of first person as well.
Pieces
looks at the resiliency and strength of children that endure hell and somehow emerge, scarred and broken in many ways but able to eventually move on. It is a raw, brutally honest look at the ways parents can damage children and the ways that damage endures for life.