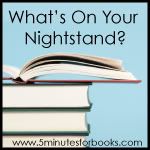 Did you see our news? We're on Pinterest! Follow us!
Last month I shared that I was in a reading slump and was hoping to get my reading mojo back:
I have no idea which direction I'm going to go. I'm actually waiting on Marisa de los Santos' newest, The Precious One, to arrive, and I'd like to start that, so I'm trying to finish The Keepers: The Box and the Dragonfly, so I'll can focus on that. I can guarantee that will get my reading mojo back!
Well, it happened! Due to a couple of mixups, I actually didn't get de los Santos' novel until Friday, but I'm almost finished, and I'm loving it. I also finished the middle grade book I mentioned, as well as 2 audiobooks, and a couple of memoirs, so YES, slump is over!
This month I still feel like I'm playing catch up, and I haven't been as organized with my Goodreads list which makes it difficult, and I have a lot of reviews to write, so we'll just play it by ear.
What about you? I'd like to hear what you are reading, or if you'd like to babble on about mojo and slumps, I'm up to read that as well. Link up to your blog post below or leave us a comment.
Check out our current giveaways. Subscribe to our feed. Follow us @5M4B on Twitter or on Facebook.