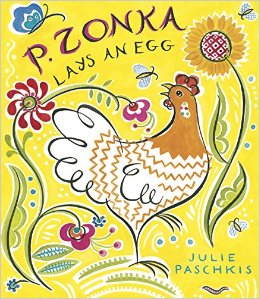 The hens in the farmyard of a new picture book by Julie Paschkis have various schedules of egg laying. Some produce an egg every day, while others produce a few each week. Everyone, that is, except P. Zonka. As the title of the book indicates, though, perhaps something new is in store. P. Zonka Lays an Egg is a lovely folk tale twist on a Ukrainian tradition.
P. Zonka is a bit of a head-in-the-clouds dreamer type, wandering around the yard busily engaged in observing and appreciating the beauty around her. Sunbeams and vibrant flowers catch her attention, and as a result, it has simply never occurred to her to lay an egg. The other hens act as one would imagine anthropomorphic hens would. They're a tad chatty and gossipy, and they can't help but mind P. Zonka's business. Her lack of egg laying gets attributed to laziness by the hens, but P. Zonka doesn't seem the least bit bothered by their chatter.
After a while, P. Zonka decides to give the egg laying business a try, not so much because she's bothered by the hens' constant clucking at her, but more out of curiosity. Though some of the other hens thought it would be impossible, P. Zonka does indeed lay an egg, and what an egg it is! Gorgeously colored and designed, her egg displays many aspects of the beauty she has long appreciated in the natural environment around her!
Inspired by the Ukrainian decorated eggs called pysanky, P. Zonka's eggs are delightfully designed. Paschkis' illustrations are vibrant, with bold lines and splashes of many colors on each page. Smiles abound with each read aloud of this fun story.