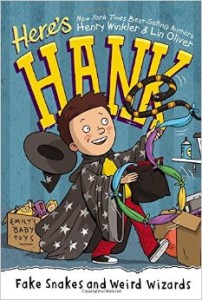 For years, actor and author Henry Winkler has had great success with his Hank Zipzer series for middle grade readers. Now, together with author Lin Oliver, he's sharing Hank's adventures from his younger years in the "Here's Hank" series, aimed at readers 6-8 years old.
My 1st grade son and I recently read Here's Hank: Fake Snakes and Weird Wizards together. It's the 4th book in the series, though each book can actually stand on its own.
About the book…
Hank's sister Emily wants Ralph's Reptile Show to perform at her birthday party more than anything, but Ralph is booked solid. So Hank comes up with a plan: he'll disguise himself as a magician called The Westside Wizard and pull a snake from thin air! But when Hank's true identity is revealed during his performance, his good deed might just turn into a huge disaster.
Fake Snakes and Weird Wizards is full of comedy and fun adventures, all fabulously illustrated by Scott Garrett. My son giggled several times and really enjoyed each of the characters. The book features an easy-to-read font designed especially for dyslexic readers – a cause close to Winkler's heart, as he's dyslexic himself.
Reading Fake Snakes and Weird Wizards together with my son made for some great discussion. At the end of story I asked him questions like:
What was Hank trying to do in this story?
Why was he trying to do it?
Who was trying to help him?
What kind of brother do you think Hank was to his sister?
What do you think about Hank's friends?
What are ways we can help others?
It was a fun book to read and talk about together.
What books are you are your children reading and talking about these days?
Enter to win
Follow the instructions below to enter to win a copy of this book to share with your young reader.