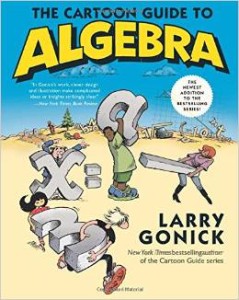 Ok, I'll admit that I'm a math geek. I love math. It was one of my favorite subjects in school, and I am looking forward to the day when my 4th and 5th graders venture into true algebra and trig so that I can relive some of the homework I enjoyed. But I know I'm in the minority. The very very small minority, which is where The Cartoon Guide to Algebra by Larry Gonick comes in.
This is part of a great series of guides to various subjects from physics to statistics, chemistry, history, and more. The Cartoon Guide to Algebra introduces the subject of algebra – and how and why it works – to those who may be less than comfortable with math. It starts out and continues in a very nonthreatening vein. There are multiple cartoons and graphics on every page that keep it from being too dense or feeling like a textbook.
Algebra is introduced with an explanation that it's simply a continuation of arithmetic that is already comfortable and familiar. The why we need various concepts – from fractions because we don't want to cut off our feet if they aren't exactly 11 inches to negative numbers like if you owe someone money – is put in easy to understand analogies and examples that take the mystery (and thus, much of the fear?) out of it.
Each chapter introduces a new topic and is filled with explanations and examples, in many different forms, which is something that can and will help those with various learning styles. There are tables and charts, along with cartoons explaining concepts. There are examples of problems and verbal explanations. At the end of each chapter are sample problems for you to try to ensure you understand the concepts – and yes, there are answers for each of the problems at the back of the book to confirm that you really did get it. For the most part, you see simply the answer where I would love to see the steps to solving it for those inevitable times when you solve a problem incorrectly.
The book covers graphs and equations, rational and irrational numbers, problems with multiple unknowns, square roots, and quadratic equations, amongst other topics. It isn't a replacement for a textbook, as my middle school math teacher husband (who does teach algebra himself and can't wait until I "give" this book to him to keep) was quick to point out, but it wasn't intended to be. It covers all the topics that he would cover in a year of Algebra I, though in a slightly different order from how he approaches it.
As my husband put it, "This is a nifty little book!"
Written by Michelle of Honest & Truly! who is doing her best to raise math-loving children and hopes this book will spread that appreciation for a great subject. See how she uses math every day – like in cooking! – on her blog Honest & Truly! and follow along with her on a Twitter where she is also @HonestAndTruly.