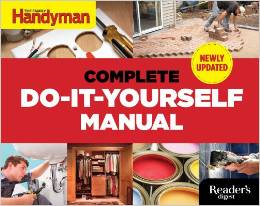 With the new year approaching, it's time to think about goals and resolutions for 2015, and in my case, that means taking care of things around my house. We moved here about six months ago, and our 1925 house has plenty of charm but also requires plenty of work. Though I'm not a DIY expert, I'm confident of my abilities when given directions to do many tasks. The Complete Do It Yourself Manual (newly updated!) is the perfect tool for me to use to get started on some of those projects.
I love the way the book is laid out with plenty of photos and step by step instructions on each page. It really helps break down the complexity of projects and makes them less daunting. The little tips and tricks included – like how much wattage you need in your lights for your space or why there are so many different kinds of nails and what each is used for. Though some of the information is just cool to know – I'm more familiar now with the styles of roofs than I will need to be unless I build a house someday – there is plenty of practical information that I can't wait to put into place.
There are more projects available than I can count, and over 3,000 photos to help you along the way. Granted, I'm not up for tackling every project in the book, but I'm ok with that. I don't foresee my husband or myself ever tearing out our bathtub and replacing it, but having the familiarity of the steps of what's involved makes me even more comfortable when looking to hire a contractor to do it and knowing that I can talk the language and understand what he's doing and planning to do.
I do have several projects picked out already to work on while my husband is on vacation, lucky man. We have a light fixture that isn't quite right that we will be replacing ourselves now. The entryway that's just a bit off? We can pull that portion out and replace it. We have a faucet in our powder room that runs way too much water, and I can't wait to fix that, too.
My favorite, however, is the section on storage tips and solutions. We all have way too much clutter these days, and the updated version of The Complete Do It Yourself Manual has tons of great tips and ideas and projects for storage solutions throughout your house. I've always been a fan of using the inside of my cabinet doors to hold the wee ones' schedules and teacher newsletters. Looking through the book, there are so many more things I could do with the inside doors, and I'm excited to put some into places because a 1925 house does not have as much storage as you would hope.
Whether you're a first time homeowner or a handyman hobbyist, there are so many projects in here with tips and steps and photos to make anyone comfortable tackling something new.Whether you use it to save money by not having to hire a professional or simply to brush up on your knowledge so you can talk more intelligently with those professionals, this is a reference book to keep on hand.
Written by Michelle from Honest & Truly! who loves her new house but can't wait for it to be "perfect" some day. See what's keeping her from making it perfectas she shares on her blog Honest & Truly! and follow along with her on Twitter where she is also @HonestAndTruly.