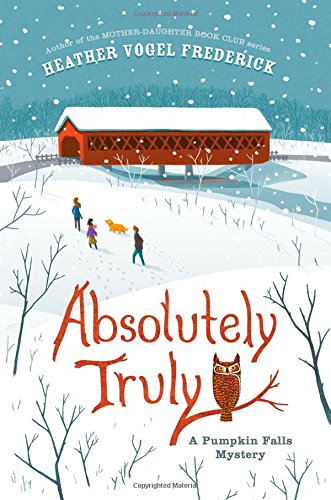 Absolutely Truly: A Pumpkin Falls Mystery is a fun novel, with the exciting plot element of a mysterious treasure hunt. It's the type of children's novel I like best — one like The Penderwicks which has a modern setting, but somehow a classic feel.
Truly Lovejoy and her family (yes, it's a family name) have moved to her grandparents' house in New Hampshire to help run the family bookstore. Truly's dad was just about to leave the army when he was injured, changing their plans to settle down in Texas for good.
This is a novel featuring topics that will resonate with many kids — moving, making new friends, being different (Truly is only 12 and recently shot up to 6 feet tall), being part of a big family, military families, amputees, small town life and more. But it's not at all a preachy, teachy kind of story. it's the plot and the interesting and sweet cast of kids that make this novel.
I enjoyed it and can't wait to share this one with my 10 year old son, just like I shared this author's Mother Daughter Bookclub series with my daughter when she was about this age.
Since the subtitle is "A Pumpkin Falls Mystery," I'm assuming we'll see more of the Pumpkin Falls Private Eyes, and that works for me.
Click over to 5 Minutes for Mom to enter to win 7 books from Heather Vogel Frederick, including the whole Mother-Daughter Bookclub series, and Absolutely Truly.