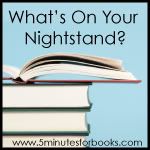 Oops — I forgot again! Thanks to Nancy for the reminder. That said, I had already thought about December. We rarely get much participation right before Christmas, so we'll postpone it to the 5th week, December 30.
I'll keep this short, so I can get it posted. I've had a good reading month, and I hope you have too. I look forward to the loosening up of my schedule as some of my activities ramp down in December for the holidays, which always gives me more time to read.
What about you? Do you anticipate more time between the pages this month or less? Link up what you've read or what you want to read below. Thanks, as always, for sharing with us!
Check out our current giveaways. Subscribe to our feed. Follow us @5M4B on Twitter or on Facebook.