When I sat down to write the post on 5 Minutes for Mom celebrating 50 years of Rudolph the Red-Nosed Reindeer, the longest running special in television history, I wasn't sure what to say. Sure, I grew up watching Rudolph, but could I get nostalgic about it? It turned out I could, and the more I wrote, the more I realized what a big part that brave reindeer has had in my Christmases over the years.
While we own the DVD of the Rankin/Bass special and have several Christmas decorations, we don't have any Rudolph books, which is kind of amazing. So I was thrilled to receive a box of Rudolph books as part of the review and giveaway, featured over on 5 Minutes for Mom.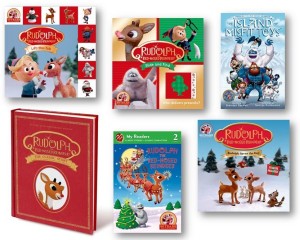 The books range from board books intended for toddlers, to an easy reader for beginning readers, to a graphic novel for older kids, and my favorite, a deluxe 50th anniversary hard-covered storybook that tells the classic story of Rudolph.  The Classic Story is geared toward ages 4-8 but I think it will be loved by all ages.
While my boys, ages 7 and 11, are too old for most of these, they still liked the Lift-the-Tab board book, where the dialog is hidden under numbered tabs that end at 25, and the Slide and Find that's more of a learning activity book. Both of those are for ages 2-4.
Also included is a paperback picture book, Rudolph Saves the Day, which includes stickers and is for ages 3-7, and Rudolph the Red-Nosed Reindeer: My Reader, a Level 2 Paperback Reader for ages 5-7.
The boys' favorite was The Island of Misfit Toys Middle-Grade Graphic Novel for ages 7-12. They both immediately blew through this graphic novel that tells of what happened to the toys during that same storm that hit the North Pole on Christmas. We also learn how Cowboy ended up with an ostrich instead of a horse, and why Dolly was on the island.
For more on my memories of Rudolph and how my own family has enjoyed the classic, as well as a chance to win this collection of books, click over to 5 Minutes for Mom.
It's also Christmas Giveaway season! Go ahead and browse all the Christmas Giveaways going on this month.