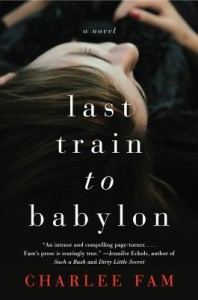 The opening of Charlee Fam's debut novel Last Train to Babylon is somewhat hazy. It's the kind of prologue that drops hints and bits and pieces of the story yet to come in a way that doesn't make complete sense on the first read through, but when you later realize the seriousness of the scene, you get a hit-in-the-gut delayed reaction. As the novel progresses, the intensity increases while still maintaining a level of dark humor to balance out the seriousness of the story.
Upon finding out that her high school best friend has died of a likely suicide, Aubrey Glass finds herself focused on her annoyance at her mother's overly sentimental phone conversation. Dismissing her school guidance counselor mother's barely veiled attempts at evoking some sort of emotional response, Aubrey decides to head home for a visit, though she's not committing to attending the funeral. She quickly refers to Rachel as her "ex-best friend," though her mother doesn't acknowledge that characterization. Regardless, Rachel finds herself heading back to the Long Island town she left after high school graduation five years ago.
It doesn't take long for Aubrey to begin running into people from her not-too-distant past, and everyone is talking about Rachel, of course. Aubrey learns of plans for an "after party" in Rachel's honor to be held at a local bar after the funeral. This reunion/party appears to be perceived as morbid and in bad taste to no one but Aubrey, another instance emphasizing the distance she feels from the people of this place she used to call home.
This short summary represents just the beginning of Aubrey's experience after Rachel's death and stops short of describing the more serious incidents that come both before and after. The telling of Aubrey's story isn't straightforward, with the novel starting in the middle, and jumping backward through narrative flashbacks, and then progressing forward beyond a climactic point. Even more importantly, with Aubrey serving as the narrator, there's a certain unreliability in the storytelling that isn't necessarily willful, but more a result of Aubrey's inability to acknowledge pieces of her own history.
From the beginning, she seems willing to accept what she believes to be others' perceptions of her– that she is a cold and unemotional person, unable to express or receive emotional connections. As readers get to know Aubrey both in her present and through the stories from her past, we witness enough personal interactions with family members and anxiety-ridden alcohol binges to become suspicious, but we must rely on Aubrey to get us to the point of understanding. When that point comes, everything that occurred before makes perfect sense, the puzzle pieces all falling into place and the big picture becoming crystal clear.
Thematically, Last Train to Babylon hits many serious notes, but in Aubrey's almost defiantly casual voice, it does so without a heaviness in its tone. I was riveted by this story and this vulnerable, prickly protagonist, who isn't always wholly likable but for whom readers can't help but wish for healing and peace.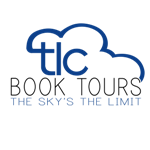 We're happy to be participating in the TLC Book Tour for Last Train to Babylon. Check out all the stops on the tour to hear other book bloggers' opinions of the book.
Check out our current giveaways. Subscribe to our email feed. Follow us @5M4B on Twitter or on Facebook.