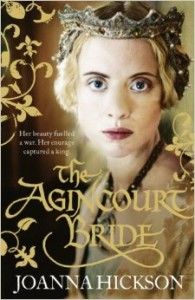 Historical fiction is one of my favorite genres, but I tend to read mostly historical fiction that is based somewhere in the British Isles. On occasion, I do venture to other countries, and The Agincourt Bride by Joanna Hickson is one I'm glad I picked up. Granted, the heroine of the story is Princess Catherine of the Court of Charles VI in France who founds the Tudor dynasty in England. However, this portion of her story is told before she ever sets foot in England.
Interestingly, the story is told from the point of view of her wet nurse Mette, who was a 15 year old with a newly dead infant when pressed into service at the birth of Catherine. Conditions are nowhere what you might expect in a royal household for the children, and it is a fascinating perspective of how court life works amongst the servants rather than strictly through the eyes of the nobility.
Mette is lucky in that she married fairly well and was the only daughter of a baker who was able to support her and her family during the time when she was not in the nursery and before Catherine returns from the nunnery and brings back Mette as one of her ladies in waiting, much to the chagrin of the existing powers that were.
Fortunately, life as a teenager is somewhat easier for Catherine and – by extension – Mette, as they at least have sufficient food to eat and clothes to wear, although the politics have grown significantly more tricky. Charles VI is unable to rule the kingdom due to his madness, and the Dauphin and the Duke of Burgundy are fighting both each other to rule France as well as Henry V of England who is invading and frequently winning battles.
Both the Dauphin and the Duke of Burgundy see Catherine's marriage as a way to ensure they will rule France and she is promised and unpromised to Henry V repeatedly throughout the book. The sense of Catherine's powerlessness over the situation is really brought to bear via the use of Mette as the narrator of Catherine's story, and his intimacy yet distance within the situation is the perfect compromise to share it.
I hadn't realized when I first picked it up that this was to be the first of a series and that it told only a portion of Catherine's life. As much as I wish I had the entire story now, it was fascinating reading to get into much of the detail that would have had to be cut of necessity had Hickson attempted to share the entire story in one book.
The details provided throughout the book help you feel as though you are there with Mette and Catherine as they fret over what the ruthless Duke of Burgundy has in store for them or whether Henry V will be a fair husband. Though it took me a bit of time to get into the book – which I readily admit could easily be because this is outside my usual historical fiction fare – Hickson has crafted a book that drew me in and kept me reading long after I should have gone to bed.
The Tudor Bride, which follows Catherine's story as she journey's to England and lives a more adult life in England's royal court, comes out in March of next year, and I cannot wait to see how she handles it and the intrigue that follows.
Written by Michelle of Honest & Truly! who may love reading historical fiction but is grateful that her feet are planted firmly in the 21st century. See why as she shares her life on her blog Honest & Truly! and follow along with her on Twitter where she is also @HonestAndTruly.