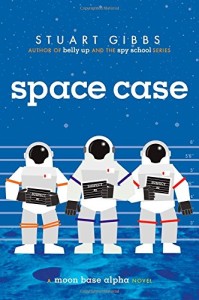 My kids and I all read and like Stuart Gibbs' Belly Up. I know he's published books since then, but we haven't gotten to them. However, when I saw this new space-themed mystery, I jumped at it, hoping it would be just as enjoyable.
The entire story in Space Case took place over the course of a couple of days on the moon unit where people are living in the year 2041. Each chapter ends with an excerpt from the "Official Residents' Guide to Moon Base Alpha" handbook in regards to something that is referenced in that chapter, like meals, safety, exercise, etc. It was an interesting way to share facts and limitations of living in space and give this science fiction a base in reality.
Twelve-year-old Dashiell Gibson is in the bathroom late one night, when he overhears Dr. Holtz talking about an exciting new discovery that he can't wait to share with the base and the United States. The next morning Dash waits for the announcement, but what he finds out instead is that Dr. Holtz took a solo moonwalk and is dead.
The base manager, Nina, forbids Dash to stir up trouble, but he continues to investigate, with the help of newly arrived resident Kira, also 12.
The mystery was sort of interesting, but what I enjoyed more was getting to know Dash and the other Moon Unit Alpha kids, and pondering what it would be like to live in space. The mystery was resolved at the end of the book, but it does seem to hint at a sequel, which I would definitely want to read.