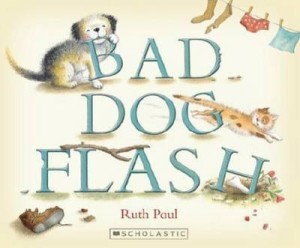 A puppy and mischief go hand in hand, and in Ruth Paul's new picture book Bad Dog Flash, the mischief couldn't get any cuter.
Flash has energy, and he just wants to play. When chasing the cat leads to him getting chastised, Flash tries to avert his attention to other playful things. But trying to carry a stick inside results in a broken window, and sniffing at the shoes all lined up in a row ends in a mess of chewed leather. After a series of indoor and outdoor adventures gone awry, poor Flash is mucky and sent out to his dog house away from everyone else. Thank goodness that his little girl knows when he needs some love.
As a picture book, this makes for a fast read, perfect for toddlers and preschoolers. For early readers, the sparse text allows for independent reading within the context of a fun story and attractive illustrations. The pencil and watercolor illustrations render Flash in all his adorableness, with the appearance of texture, in beautiful soft colors.