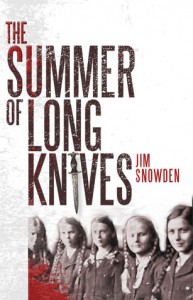 It's the summer of 1936 in Munich, and the Nazi party, already in power for 3 years, is becoming increasingly heavy-handed. Kommisar Rolf Wundt and his wife Klara are desperate to get out of Germany while they still can. They have no love for the Nazi party and its small-minded cruelties, and Klara has already lost her job as a psychiatrist. But a young girl, a member of a Nazi Youth Party, is abducted from a parade and her dead body is found with words carved across her chest–ambiguous words that could be a call for Jewish murderers to arise or a call for the murderers of Jews to arise. Either way, Wundt is disgusted at the way the case is handled by his Nazi superiors, and is determined to discover who is really to blame. To do this, he has to go against his bosses (who have already executed people for the crime) and work somewhat in secret, pulling in relationships long past. He also has to fearlessly inspect even the highest echelons of the Nazi party, something that definitely risks his and Klara's lives and the lives of their friends.
The Summer of Long Knives
is an intense novel, full of details that bring the time period to life and electric with political intrigue. Wundt is willing to risk his position and possibly his life to find and stop the real killer, but he's savvy and creative in the way he manages to work things to his advantage. Reading it will make you happy all over again that you didn't have to live through this time in this place. Author Jim Snowden has done a fantastic job of recreating the layers of fear, syncopation, hypocrisy, and greed that permeated German society and were required to varying degrees of everyone who lived there. And of course, reading this from the vantage point of history, I kept cringing, thinking about how much worse things were going to get. From Wundt's attendance at a party at Goring's house to his evenings spent talking with Jews and Communists, from his run-ins with the Hitler Youth to his haunting visit from the mother of her murdered girl, who is all too aware that the police have killed innocent children as a result of her daughter's death, the book takes us deep into a culture of suspicion, paranoia, and self-preservation at all costs.
Klara and Wundt have a complicated marriage as well. A previous case, the Dresden Vampire, which Wundt solved some years prior to the events of this book, took a heavy toll on their marriage and trust, and it's still recovering. Wundt's determination to risk anything to solve these latest murders doesn't win him any points with Klara, although she has her own resources and provides him with unexpected help. She's a complex character. Wundt's former lover also has a role to play in this convoluted relationship.
The Summer of Long Knives
is a gripping read, a look at a specific time and place layered around a murder mystery, and as such a painless way to brush up on your history of the Third Reich. It's a dark and complex book, but at the same time a good one, hard to put down, with well-developed characters and a plot that twists and turns. I definitely recommend it.