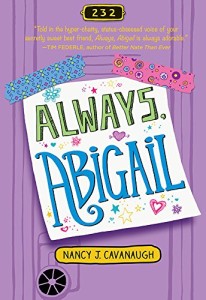 Always, Abigail is one of those important stories for that demographic of girls who are entering middle school. That is a time that brings big changes, especially for girls. Some girls slide right into the make-up, boys, popularity mode, while others get left behind (or choose to stay behind).
Abigail and her best friends AlliCam –yep, they only need one name– are set on ruling the 6th grade. They know the first step is to make the pom-pom squad. They practice all summer, and they buy just the right clothes. But the first day of 6th grade already turns out to be a bust when Abigail is put in one homeroom — the mean and old-fashioned Hawk-eye Hawkins — and AlliCam are together in another homeroom! It gets worse when the teacher assigns them "friendly letter buddies" and Abigail is teamed up with weird Gabby Marco, the outcast of the school.
In one way, it's an old story – will Abigail do what's right by Gabby or will she be lured into meanness by popularity, but Abigail and Gabby are strong characters, as is Hawk-eye Hawkins, and it made the book a delight that will appeal to middle grade readers. One thing felt out of place — these in-going 6th graders were already doing a lot of babysitting. Whereas I babysat at that age in the early 80s, and I even hired girls that young to babysit my daughter 10 to 14 years ago, that is really not the way it's done now. Many parents I know with 6th graders won't even leave them alone, let alone hire one to babysit their children!
The book is told as a series of lists made by Abigail, journal style, as well as letters, mostly to and from Gabby, but also locker notes from friends and school, and notes to and from her parents. That style works. It made it a fast read, and Abigail's voice really comes through. Reluctant readers are more apt to pick this up, because it's not just pages and pages of paragraphs. In fact, I think I'm going to buy a copy for my reluctant reader 4th grade niece who just enjoyed her first cheer camp.