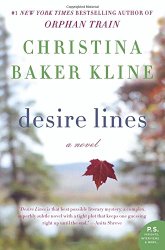 When I think back to high school, the memories that stand out the strongest all revolve around my small group of close friends. As a teenager, they were my world, and though we all live in different areas now and only "see" each other online, they'll always hold a very special place in my heart. The novel Desire Lines by Christina Baker Kline incorporates this idea into a story with a mystery at its heart and a compelling tale of self-discovery.
After a short-lived marriage and a career that was never fully developed, Kathryn doesn't know what to do next. Until she can figure out where she wants to be and what she wants to do, she returns to her hometown in Maine to stay with her mother for what she imagines will be a short time. Coincidentally, she returns just in time for her ten year reunion, an event that bears the weight of Jennifer's disappearance, and one that she wasn't particularly enthusiastic to attend. However, when an old classmate and friend from her circle of high school pals asks her to write a piece for the local paper focusing on Jennifer's disappearance, Kathryn once again immerses herself in the memory of that night.
To read the rest of my take on Desire Lines, please see my review on 5 Minutes for Mom, where you can enter to win a copy, too!