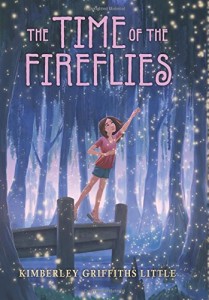 Many kids like mysteries. The Time of the Fireflies by Kimberley Griffiths Little is a perfect middle grade novel that incorporates mystery, friendship, and even a little time travel.
Larissa and her family have recently moved back to her mother's hometown. Larissa was in an accident which left her with a big scar on her face. That hasn't made it any easier for her to make friends. With her best friend Shelby Jayne out of town for the summer, she's left to spend long days working in her family's antique store (which doubles as their house), reading, and imaging.
When one of the antique phones rings one day and a young girl tells Larissa that her family needs her help, that she must find the fireflies, she wonders if she's crazy. Who is calling her? And how is she making a connection through a phone that isn't even hooked to an active line?
Larissa ends up transported back to the early 1900s, and through other time as well, connected through place. Seeing this world through her eyes is interesting. Trying to figure out the mysterious instructions that keep coming through odd phone calls is even more interesting.
The novel gets a bit scarier and more creepy (a doll, enough said) at the end, but it made it an even more exciting read. I think this is a great novel for kids who enjoy mysteries and/or fantasy, and even those who generally read realistic fiction will respond to the very real and present-day struggles of Larissa.
I love connecting with the folks who meet up every Monday at Shannon Messenger's blog for Marvelous Middle Grade Monday. Check out the other reviews for this magical age group each Monday.