Guest Contributor Crystal Patriarche is the founder of BookSparks where she has worked with hundreds of authors and publishers to promote their books. She has written about family, career, health, life, entertainment and books for many national magazines, newspapers and websites. Find her on Twitter and Facebook @BookSparks.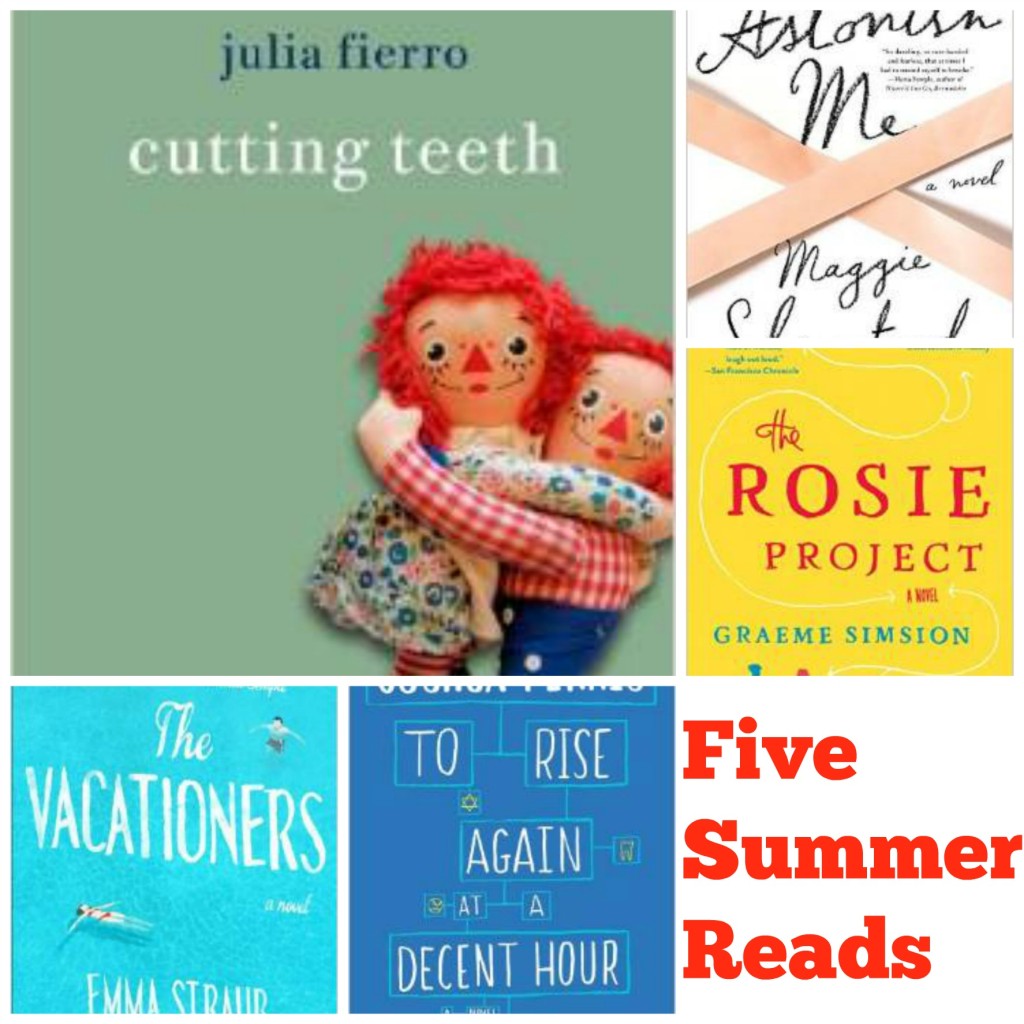 As a book publicist and also contributor to various media on book coverage, I'm often asked what I'm reading and loving. Since I read client books all the time, I love to save my pleasure reading for the summer reading season – it's my favorite time of year to crack open a book (and yes, I still crack open a paperback over digital reading!). Summer beach reading or vacation reading is my favorite and inspired me to start an annual summer reading campaign (our 4th Annual BookSparks Summer Reading Challenge is currently in swing and kicked off with Emily Giffin's The One & Only). Here are the five books I'm reading this summer for fun. I hope you have time to pick up a good book this summer.
Astonish Me by Maggie Shipstead (also read and loved her other book, Seating Arrangements)
An American dancer, Joan helps the soviet ballet star, Arslan Rusakov, defect in 1975. Despite the flash of fame, and scandalous love affair to follow, Joan knows that she is destined to remain in the background and rise no greater than the corps—among many dancers. After her affair with Arslan ends she quits ballet, marries a good man and moves to California to begin a new life, with her new son Harry. Harry grows to be a prodigy and Joan is pulled back into a world she thought she'd left behind—inevitably to Arslan.
Cutting Teeth by Julia Fierro
Cutting Teeth is about the complex dilemmas of early midlife, taking place one late-summer weekend as a group of thirty-something couples gather at a shabby beach house on Long Island. This novel explores friendship, romance, family, sex, the all-consuming love we feel for those we need most, and the sacrifice and compromise that underpins love.
The Vacationers by Emma Straub
An American family vacations for two weeks to the Balearic island of Mallorca with their extended family and friends. Celebrating a wedding anniversary and their daughters high school graduation, they jet off for a stress free escape. Not everything goes according to the plan, and over the course of the vacation, secrets come to light, humiliations are experiences, and childhood rivalries resurface.
The Rosie Project by Graeme Simsion
A brilliant and socially awkward professor of genetics decides it is time to find his wife. He designs the Wife Project to find his perfect partner, and Rosie Jarman is everything he isn't looking for in a woman. He disqualifies her as a candidate for The Wife Project, and is intrigued by Rosie's quest to identify her biological father.
To Rise Again at a Decent Hour by Joshua Ferris
Paul O'Rourke is a Luddite addicted to his iPhone, a dentist with a nicotine habit, and an atheist not quite willing to let go of God. When someone attempts to impersonate Paul online, he watches in horror. He feels especially violated that the online version of "Paul" might be a better version of the real thing. Paul searches to learn why his identity has been stolen, and he is forced to confront his troubled past.
Have you found a good summer read yet that you'd recommend to others?